| | | |
| --- | --- | --- |
| | | |
Archive for the 'Wayback Machine' Category
June 20, 2012 on 5:34 pm | By
Michael
| In
Gigs
,
Wayback Machine
|
2 Comments
Two years ago I visited Bloomingdale's in NYC, and specifically their Le Train Bleu restaurant for which "back in the day" I had originally designed many of the original elements. In my visit to NY last month I revisited the restaurant—and this time dined there. If I was surprised the last time to see that my signage and monograms were apparently still in use, dining in the restaurant this time allowed me to see the full extent to which everything I had done was still there—just as it was the day it opened back in the '80s.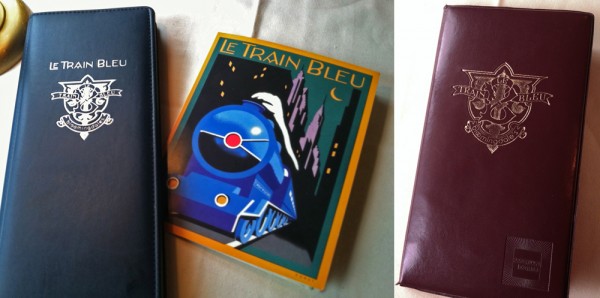 I hadn't known that they were still using the menu design I had done for them, or to the extent that they were using the emblematic monogram I had done at the same time. After years and years of use I would have imagined that the menu would have been a bit dog-eared, but apparently they've been printing and reprinting it all this time.
Aside from it being rendered in gold leaf on the outside of the train car and imprinted on the wine list and check wallet, they'd gone so far as to embroider the monogram on each and every uniform in the restaurant—classy! Perhaps that says something about a designs longevity?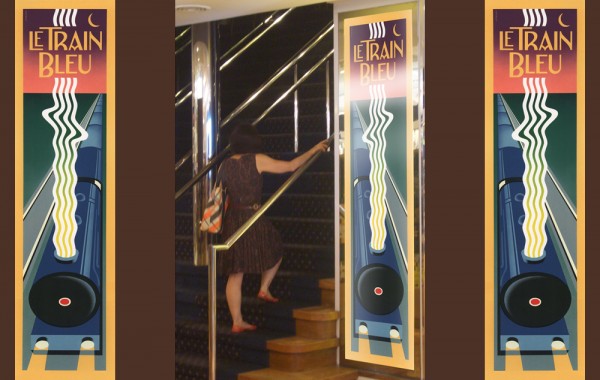 And here's a reminder for those who are interested: there are prints of the Le Train Bleu vertical format artwork—identical to the signage murals outside the restaurant—available on my ILLOZ site. These prints are finely produced, hand-crafted 12 color fine art lithographs that are virtually identical to the original painting.
June 18, 2012 on 8:38 am | By
Michael
| In
News
,
Wayback Machine
|
1 Comment
2/1/13 NOTE: Due to "human error" these prints are currently unavailable for purchase from the Live Nation website. However they will be back—please check back here again soon!
These two signed (signed by me [Michael Doret] and the members of the group), limited edition, large scale fine art prints (not lithos) are still available through the official KISS Online Store. RaRO is signed by myself, Paul Stanley and Gene Simmons. Sonic Boom is also signed by the two newer members of the band. These prints made from my original artwork of Rock and Roll Over and Sonic Boom are the best incarnations you will ever see of my art for these two iconic KISS releases (please ignore the fact that it says "Pre Order" on Sonic Boom – that's a typo).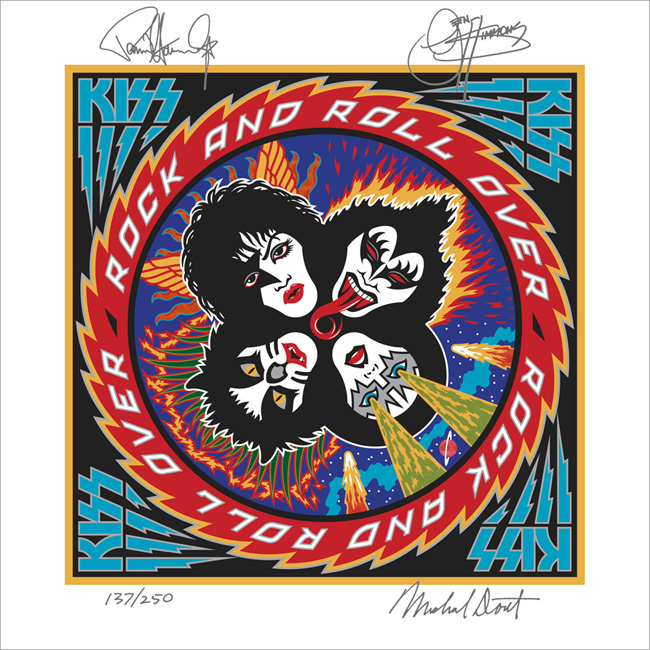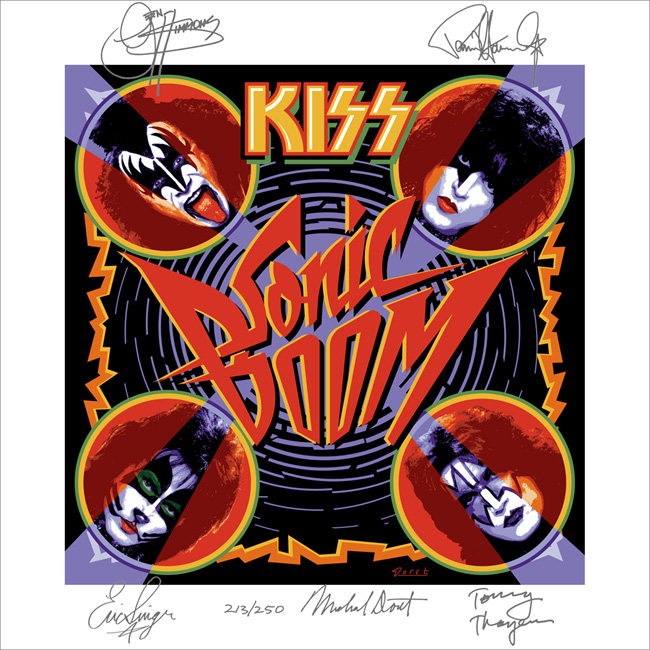 I have digitally redone my orignal art for Rock and Roll Over (after 30+ years the original original art is long gone), and so now it's cleaner and crisper than ever before. The art for Sonic Boom was digitally created to begin with, and so enlarges to the 20″ size perfectly. To give an idea of the print quality and clarity of these giclées, here's a detail of Sonic Boom showing the watercolor paper texture: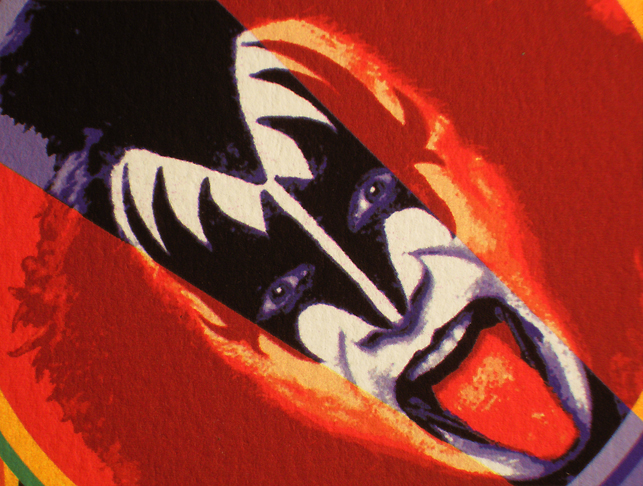 The print images are 20″ square printed on 25″ square "Museo Textured Rag" digital Watercolor paper. These are archival prints and will show no visible signs of fading for 100+ years under reasonable lighting situations.
Printed by Art Works Fine Art Publishing in Los Angeles, these editions are limited to 250 prints each, and each print will come with a certificate of authenticity signed by me.
As the creator of these two pieces I am very critical of print quality, but suffice it to say that when I saw the final proofs of these two pieces I was blown away by the color intensity and the quality.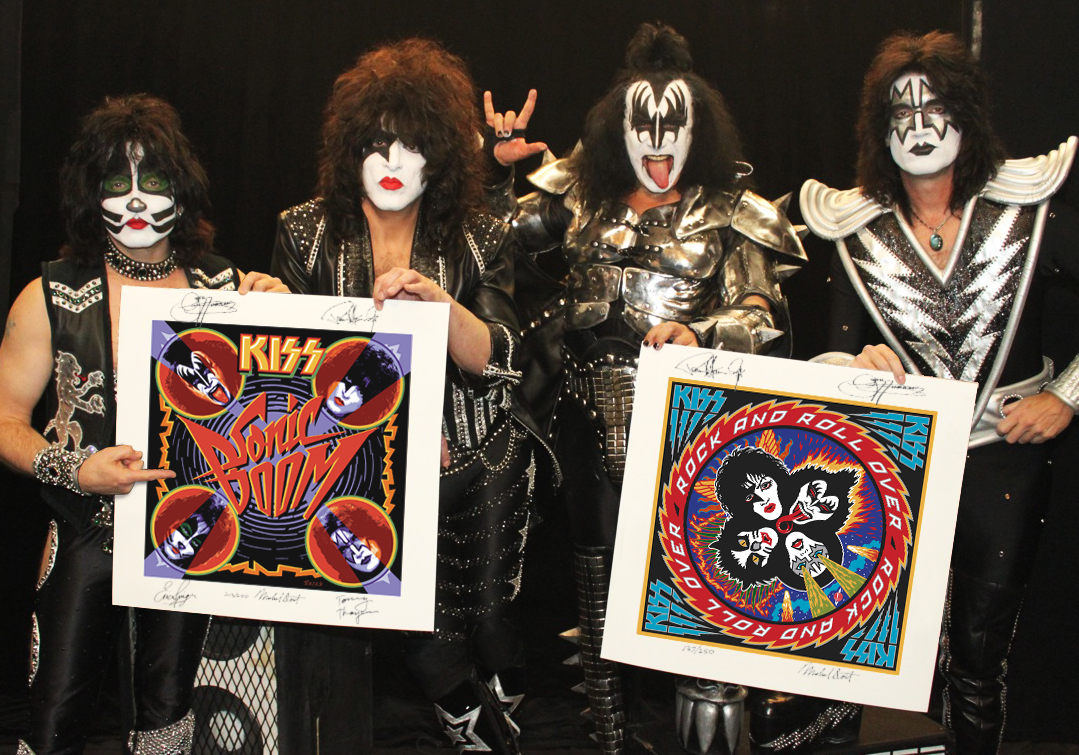 To see my other blog posts on Kiss…here are the links—earliest first:
1) For All You 'KISS' Fans Out There…
2) The Return of . . . KISS (#1)
3) The Return of . . . KISS (#2)
4) The Return of . . . KISS (#3)
6) Podcast Interview on PodKISSt
January 17, 2012 on 5:31 pm | By
Michael
| In
News
,
Wayback Machine
|
1 Comment
TonyTeach is an online learning center where you can find video tutorials, podcasts and live training for Flash, Toon Boom Animate, Photoshop, and more—both for free, and for purchase. Recently Tony Ross caught up with me, and we had a half hour discussion about how I work, my inspirations, digital vs. analog, and about my career in general—plus I give a couple of useful tips on using Adobe Illustrator's pen tool that even this seasoned teacher was surprised by. Here's a recording of that discussion:
« Previous Page
—
Next Page »
My RSS Feed

About

You may be familiar with Michael Doret's work without even knowing it. If you've seen his logo for the NY Knicks or one of his many Time covers then you're familiar with the power and dynamism he has brought to the art of hand-lettering and font design.

Michael is an eight-time winner of the New York Art Directors Club Silver Award. in his unique typographic vision he blends elements of lettering, illustration and graphic design. The inspiration for his work has come from such diverse sources as matchbook covers, theater marquees, enamel signs, early and mid-20th century packaging, and various other artifacts of this great land of ours.

My Other Sites

Categories

Archives
Powered by WordPress and Nifty Cube with Recetas theme design by Pablo Carnaghi.
Entries and comments feeds. Valid XHTML and CSS.