| | | |
| --- | --- | --- |
| | | |
Archive for January, 2011
January 31, 2011 on 6:51 pm | By
Michael
| In
News
,
Notes
|
1 Comment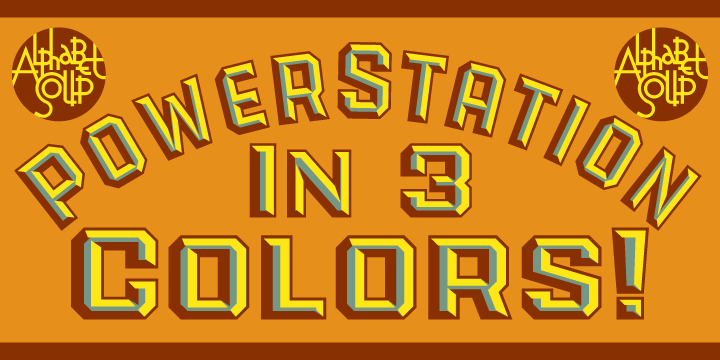 It's always nice when someone reveals something new to you about your own work. That's what has recently happened in the preparation of the Creative Characters newsletter that MyFonts has just published on my work. While helping to prepare font samples for the sidebar, Anthony Noel was experimenting with my PowerStation fonts, and stumbled across a capability that I had not intended.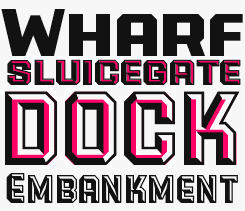 In setting the copy he inadvertantly combined both PowerStation Block and PowerStation Wedge. When I designed this font for 2-color layered typesetting, I had not even considered combining these two fonts on layers, one over the other. But that's exactly what Mr. Noel did, with what for me were unexpectedly interesting results. I would have never thought it would work, and so never tried it.
So what's come out of this is that we've discovered that PowerStation can now be typeset in three colors. Two color typesetting was always achievable with either the PowerStation Block fonts or the PowerStation Wedge fonts. The difference is that one would need BOTH of those packages in order to set type in three colors. PowerStation my be purchased from Alphabet Soup Type Founders.
January 27, 2011 on 2:55 pm | By
Michael
| In
News
,
Wayback Machine
|
1 Comment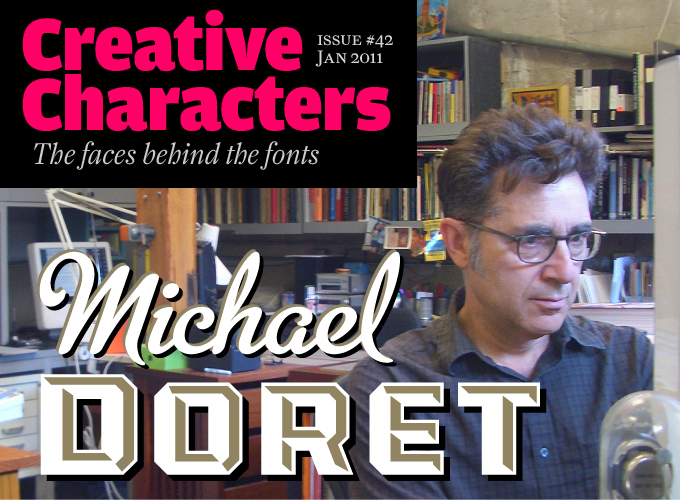 I feel very honored that MyFonts chose me as the subject of their January 2011 Creative Characters Newsletter. It took the form of an interview, and in it I've answered a lot of questions, probably at greater length than I have in the past. So if you're curious as to what makes me tick, set aside 10 or 15 minutes and read this interview. If you still have any questions, I'll entertain them here!
All you information hounds can also check out the new "Interviews & Articles" page I've just set up on my website, where I've posted other interviews, articles, PDFs, etc., that I've done in the past. Now go write that report!
January 12, 2011 on 10:46 am | By
Michael
| In
News
|
1 Comment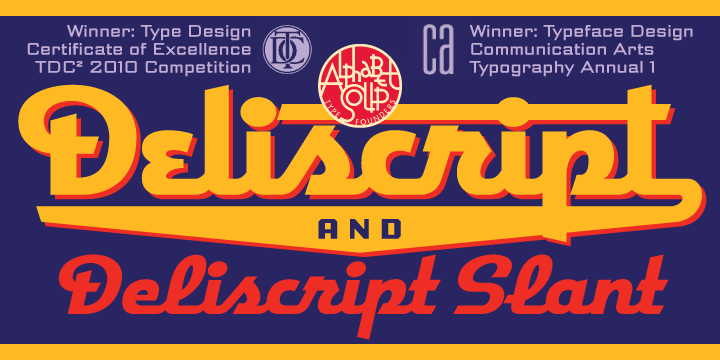 I was very pleased to learn that my Deliscript fonts in addition to having been lauded by the Type Directors Club, have also been included as winners in the Typeface Design category in Communication Arts just released Typography Annual 1.
My RSS Feed

About

You may be familiar with Michael Doret's work without even knowing it. If you've seen his logo for the NY Knicks or one of his many Time covers then you're familiar with the power and dynamism he has brought to the art of hand-lettering and font design.

Michael is an eight-time winner of the New York Art Directors Club Silver Award. in his unique typographic vision he blends elements of lettering, illustration and graphic design. The inspiration for his work has come from such diverse sources as matchbook covers, theater marquees, enamel signs, early and mid-20th century packaging, and various other artifacts of this great land of ours.

My Other Sites

Categories

Archives
Powered by WordPress and Nifty Cube with Recetas theme design by Pablo Carnaghi.
Entries and comments feeds. Valid XHTML and CSS.