| | | |
| --- | --- | --- |
| | | |
Archive for the 'Wayback Machine' Category
August 29, 2016 on 8:49 pm | By
Michael
| In
Gigs
,
Wayback Machine
|
1 Comment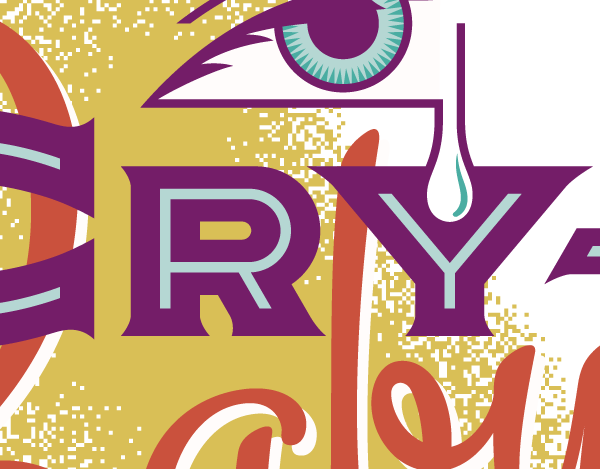 A few years ago I was asked to design a title treatment for the upcoming musical adaptaion to the Broadway stage of the 1990 John Waters cult classic film "Cry-Baby" which had originally featured Johnny Depp, Iggy Pop, Polly Bergen, Traci Lords, Ricki Lake, and Troy Donohue.
Below is the title treatment that was created for the film by others—which was simply the font "Magneto" with some added chrome effects:

"Cry-Baby–The Musical" was scheduled to open on Broadway in the Spring of 2008. The deadline on this job was unusually tight. I began work on November 15th. I had to deliver finishes by November 26th—eleven days later.
The first stage of any project is usually information gathering. In addition to a synopsis of the play, the info I received from the agency consisted of the following:
• Time Period: Early 1950's (1950-1954/55)
• Style: Like all of your work, we need to respect the time-period but have a contemporary flair…in other words we took a 50's logo and updated it for the 21st Century.
• We have 3 categories/styles that our Art Directors are focusing on: Pulp Fiction Book Jackets, Mad Magazine style, Early 1950s movie posters. I have attached some examples that I found on the internet when doing research for the project.
Here are two of the examples I was sent.
These examples were fine as far as type treatments on posters go, but a solution for "Cry-Baby" would probably have to go a bit farther in order to be able to stand on it's own. I started doing my own research into the various genres that would be appropriate for this title treatment. In addition to the "Pulp", "Mad Magazine" and "'50s Movie Poster" genres I felt that "Hot Rods" would also fit in nicely. I did my own research, coming up with many images such as the ones below: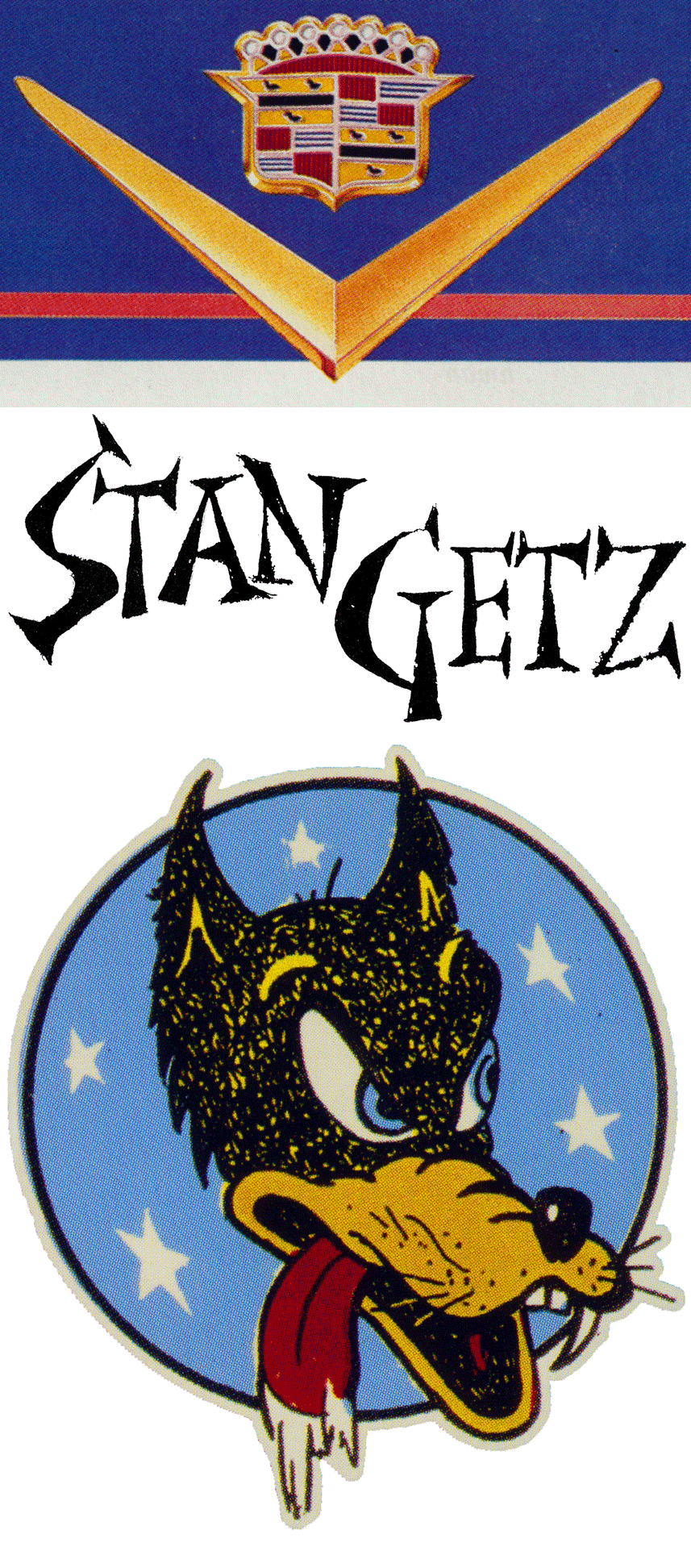 I don't use reference to "copy" from, but more to help me understand a mood, or set a theme, or push me toward a certain style. I might pull out 10 or more of my reference books—or sometimes none at all. It really depends on the project, and if my "creative juices" need a little jump-start.
Next I pick up a pencil and sketch pad and just start noodling and doodling. I might do many pages of these before I'm satisfied that I've got the germs of a few good ideas.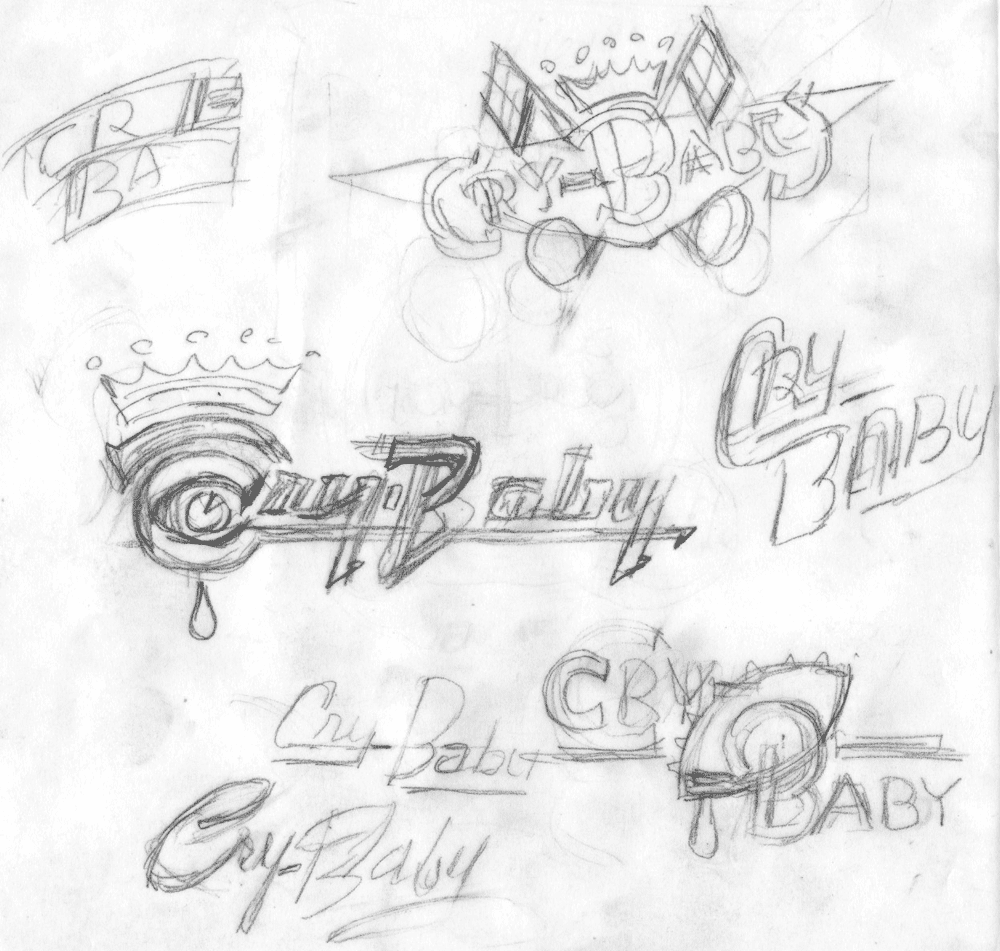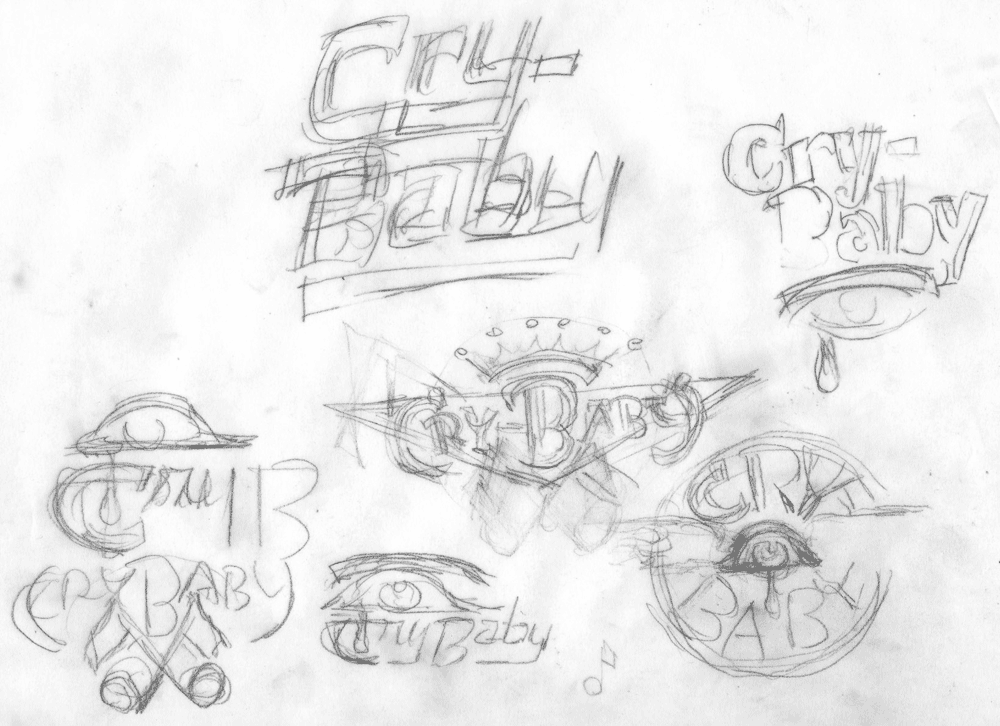 I'll go through all the pages of sketches, noting those that show some promise. In the case of this project, I picked out seven that I thought had potential and expanded them into rough pencil sketches that would be tight enough to present to the agency.
I try to provide graphic ideas that appear as different from one another as I can make them. Yet all of them should in some way fit within the parameters that were set out by the agency at the beginning of the project. Here is a little bit of the thinking behind the sketches:
The crowns in sketches 1 and 2 were suggested by one of the songs ("King Cry-Baby") that appeared in the movie.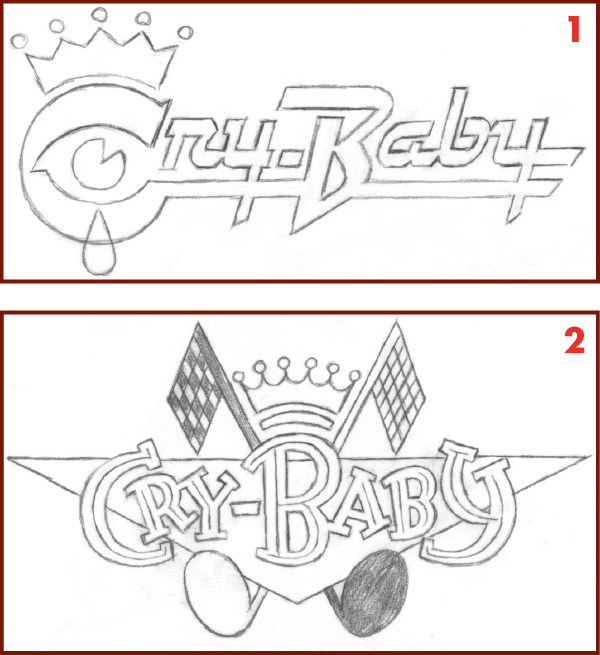 The letterforms in sketches 1 and 5 are references to "brightworks"– classic chrome car logos and ornaments of the '50s.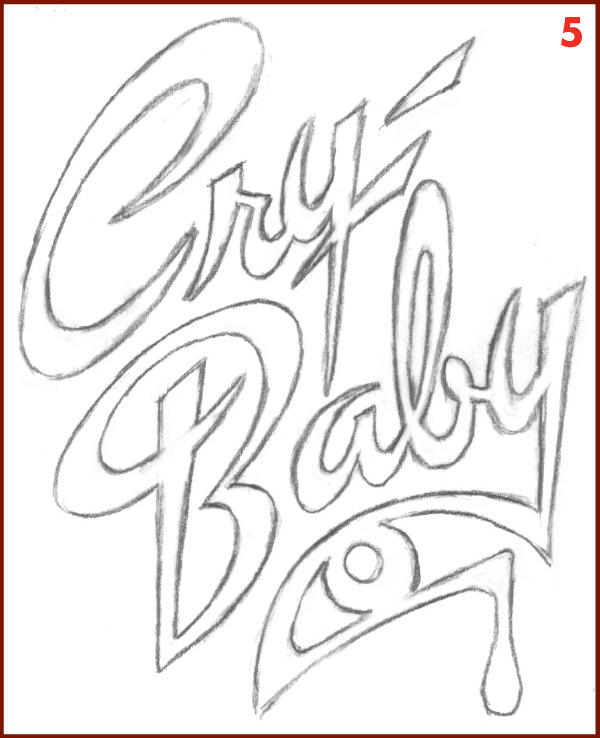 The letterforms in sketches 3 and 4 were an allusion to pulp novel covers and film noir and horror movie titles of the period.
Sketch 6 is a direct reference to hot rod decals. Sketch 7 is also a reference to hot rod decals and also to Matchbook covers.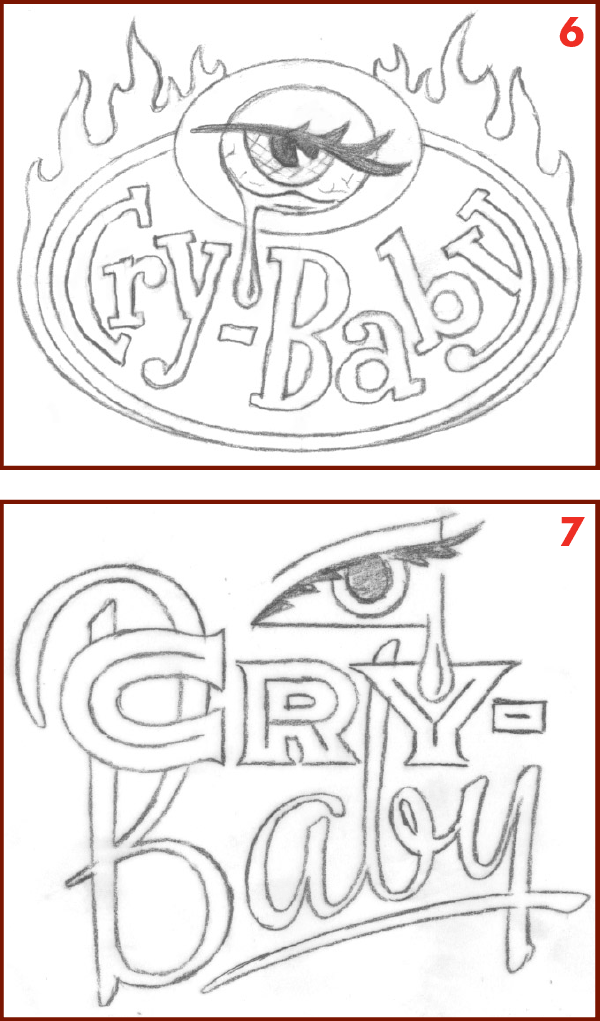 The agency asked me to bring three of the sketches to a level of finish where the producers would be able to easily visualize the treatments, and where the agency could insert them into their layouts. The agency felt that sketches 3, and 7 were fine as is. So I was to move ahead and take these three sketches to finishes in Adobe Illustrator. Typically the way I do this is to take a rough sketch and redraw it, making refinements and changes as required. Then I take the refined pencil and place it in a layer in Illustrator as a Template. Because of the impending deadline, there was no time to do redraws on most the designs, so I mostly had to make-do with the rough sketches as they were . . .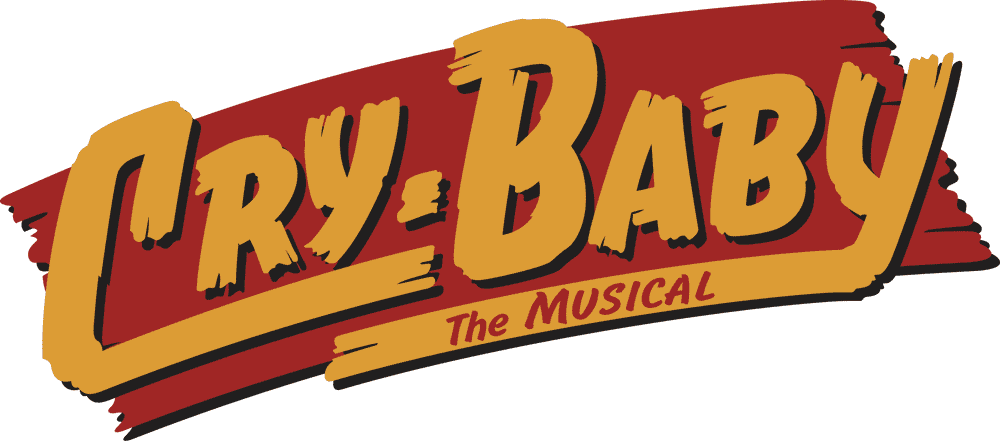 . . . except for #7 which needed a bit more detail and exactitude in the drawing before I could proceed to finish.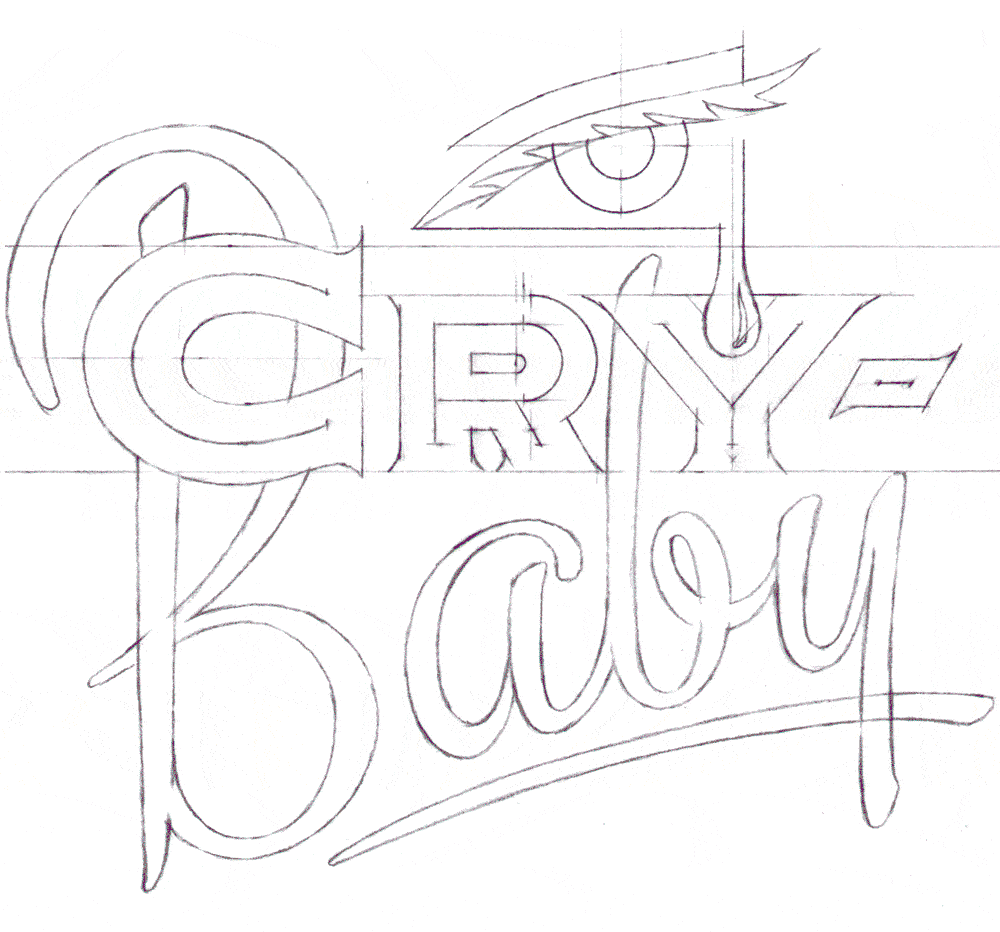 On sketch 2, the agency asked me to remove the racing flags/musical note motif. They also asked me to remove the crown motif, as the song "King Cry-Baby" would no longer be in the show. We discussed that it might be a good idea to change the triangular background to a V-8 "V" shape to reinforce the automotive connection.
Additionally, they asked me if I had the time before the deadline, if I could develop sketch 1—that would be great. As it turned out I was able to
squeeze in a finish on this one as well before the deadline. I also needed to edit out the crown on this design for the same reason as in sketch 2.



The one other thing I needed to add to these semi finished designs were the words "THE MUSICAL". Of course I felt I should add those words in a way that would feel organic to the designs, and not "added-on". I did a total of seven design solutions including the four you see above as finishes. The producers of the show selected design #3—the "pulp novel" style treatment. Unfortunately, and for reasons still unclear to me, this design (#3) was adapted and changed by others: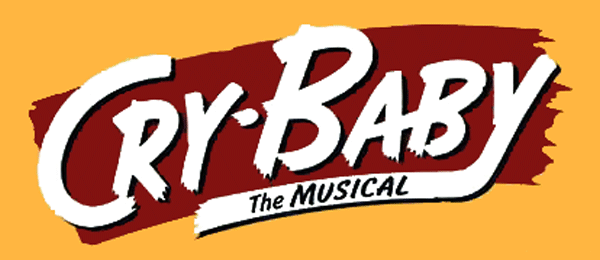 Sadly the show closed after only 45 previews and 68 performances.
#

April 17, 2013 on 5:19 pm | By
Michael
| In
Gigs
,
Notes
,
Wayback Machine
|
1 Comment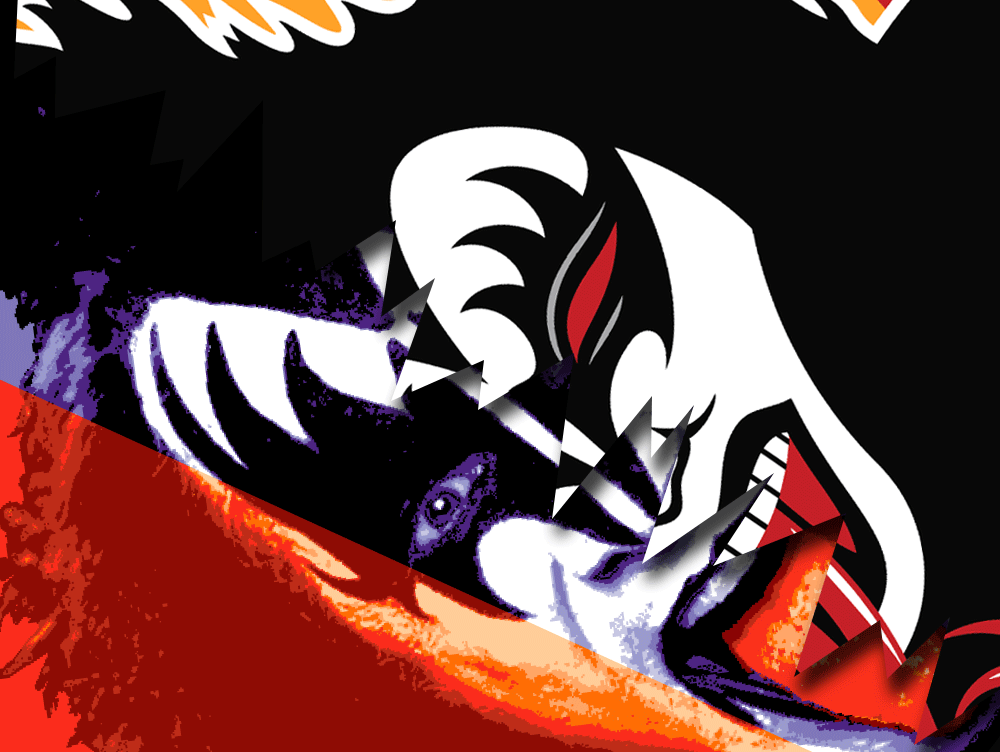 When I was asked to design and do the art for KISS' 4th studio album Rock and Roll Over, I was fairly ignorant of the culture that was forming around the group. I was unencumbered by any preconceived ideas as to what the group and their music was about. Many are surprised to hear that Gene, Paul, Ace and Peter had to explain their different personas to me before I started working on the design.
I'd love to be able to show my working pencil sketches, but over the years they'd gotten lost or destroyed, and the only record left was the original colored pencil comp that I used to explain my concept to the group. A few months earlier I had done a cover for IDEA, a Japanese art magazine that had done an article about my work, and for whom I had created a cover. I really loved how that cover had turned out, so my thought was to try to emulate the look I had come up with on this new cover for KISS. My cover for IDEA had certain gamelike, and very graphic elements that I thought would work well telling the story of what KISS were about.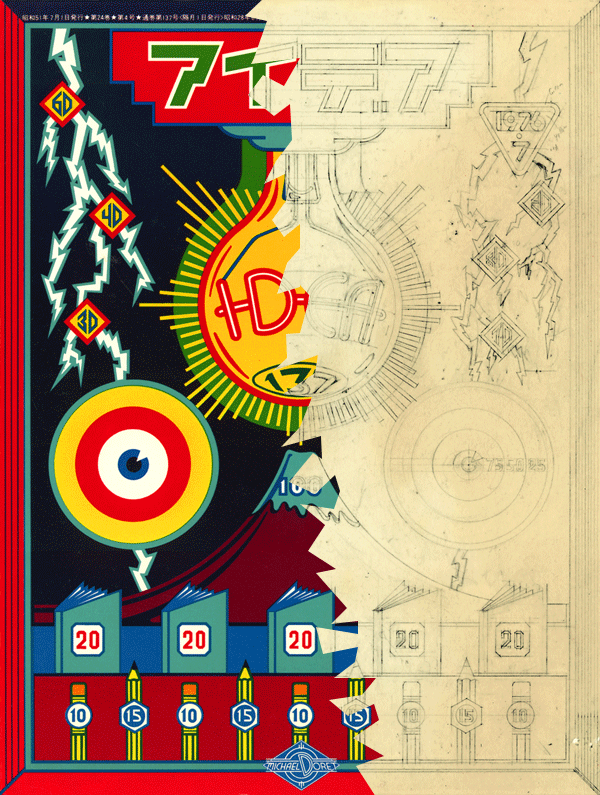 Since their makeup reminded me of classic Japanese Kabuki players, I thought the look would be appropriate. So I created a little story around each character and put them all together in a sort of "mandala" motif surrounded by a sawtooth blade with lettering. I kept the colors simple and bold as I had done with my IDEA cover. Here (yellowed and a bit worn with age) is the original colored pencil sketch I created for the group's approval: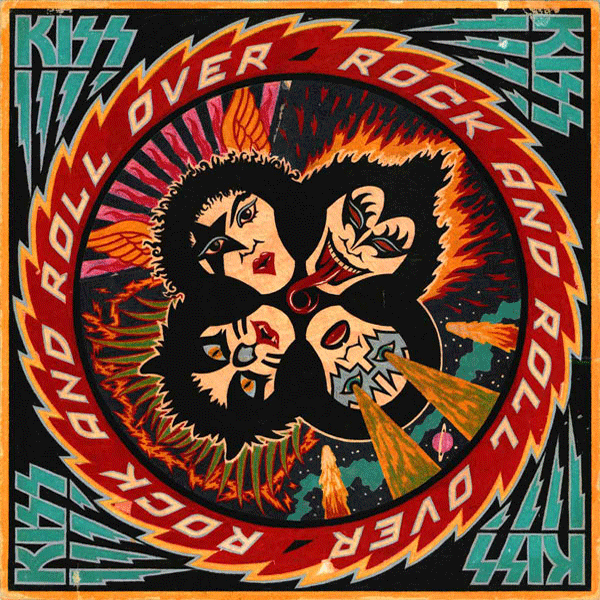 The meeting went particularly well, since I was expecting outright rejection of my idea—which at the time was pretty unorthodox for an LP cover. The changes gthey asked for, I felt, were fairly minor—adjustments to the faces (with the exception of Peter Criss), and rotating the lettering 90°.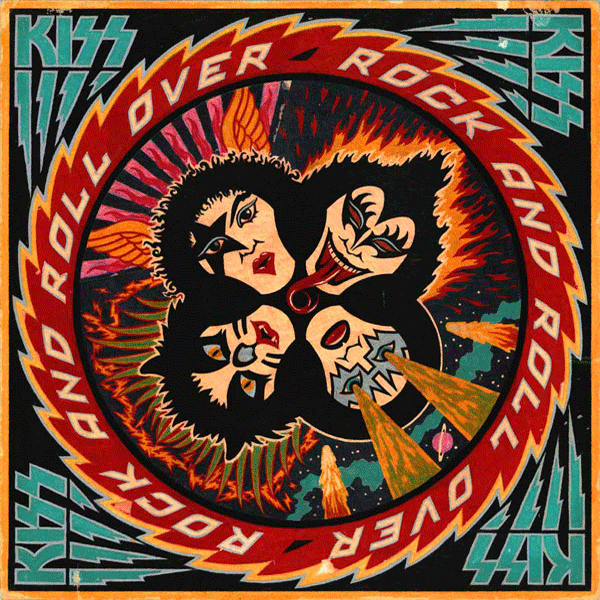 The KISS logo already existed, but I felt it needed some help to work better with my design (Paul told me he had drawn it on his dining room table). So I redrew it, making the design more consistent, and adding the lightning strokes to help give movement to the sawtooth blade.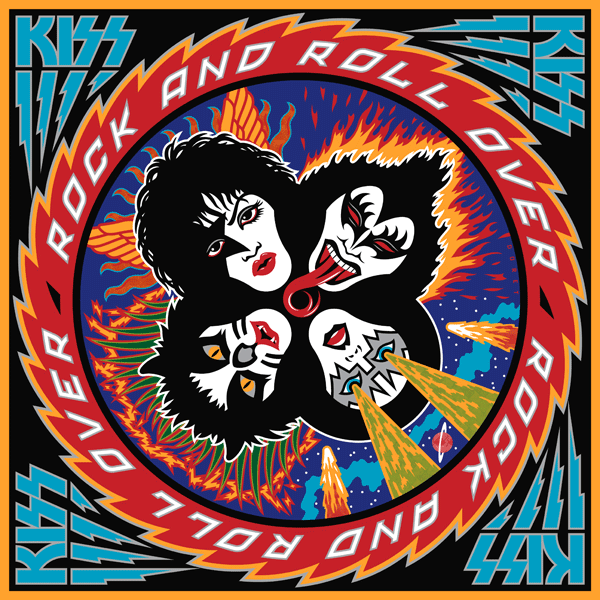 After the cover was done, I didn't think about it very much. It was only years later that I came to understand that this cover had taken on a life of its own and become sort of a cultural icon. I started to realize that when I discoved all the incredibly blatant and poorly done rip-offs of my design. Rather than upsetting me, seeing all that was quite amusing . . . after all, isn't imitation "the sincerest form of flattery"?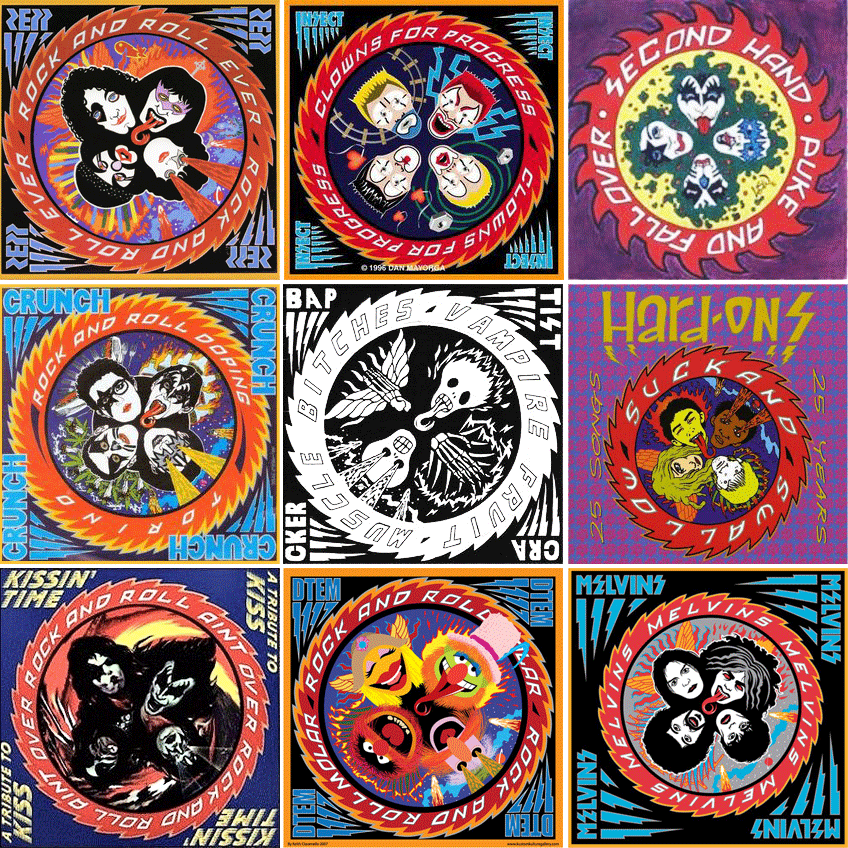 Another indicator to me of how pervasive this design had become in the culture was that people were having it permanently etched onto their bodies. This both horrified, and delighted me at the same time! Personally I would never have anything tattooed on my body—especially one of my own graphics: I'd get bored with the design way too quickly, and then it would be too late to do anything about it. Here are some shots of the process of one lucky soul having the complete Rock and Roll Over art permanently engraved on his right flank. The tattoo artist did a pretty good job, if you ask me!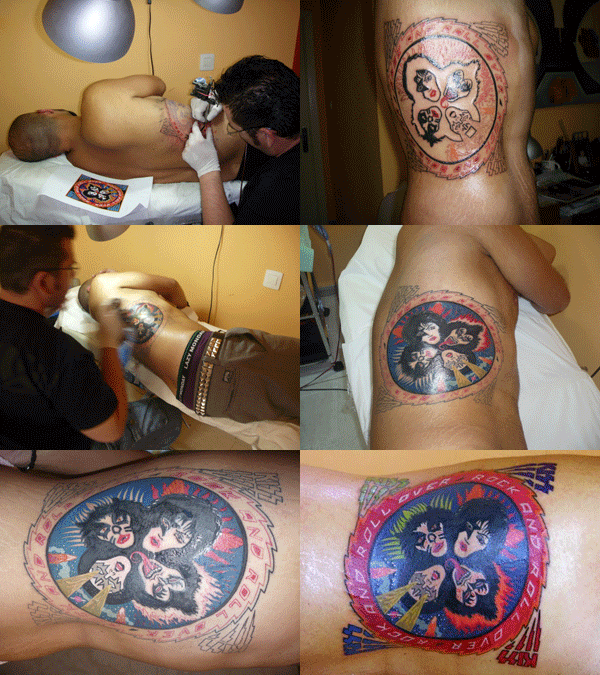 And below, for your viewing pleasure, a few more of my favorite RaRO tattoo shots. I especially like the one of the guy getting his back autographed by Paul Stanley. Now that's what I call Kiss Kommitment!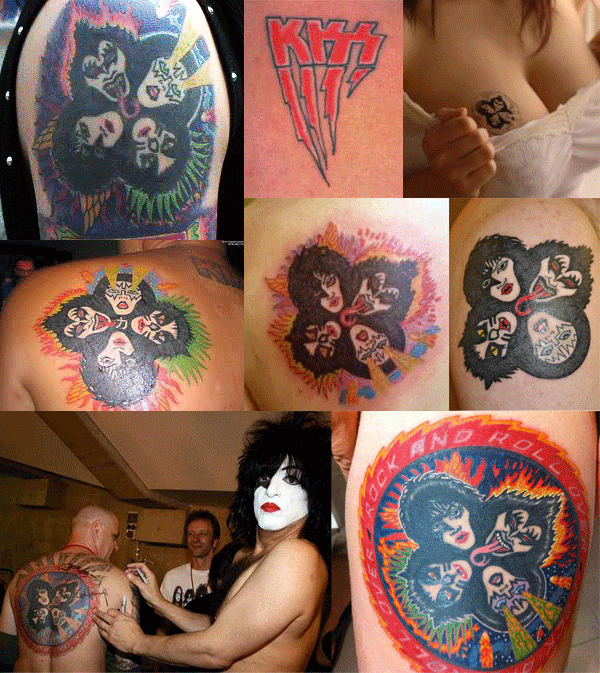 Speaking of Paul, he contacted me again recently. It seems that KISS were about to record their 19th studio album. They hadn't done one of those for eleven years, and he told me they wanted to recapture some of the magic that the Rock and Roll Over design had provided for them when they were starting out. So, in a way they kind of wanted Rock and Roll Over All Over Again—the same . . . but different.
Attempting to recreate the success of an iconic image is a thankless task. You can't realistically have that as a goal. The most you can do is to give it your all and try to do the best piece of art you're capable of doing. Here are a series of rough sketches that led up to the finished design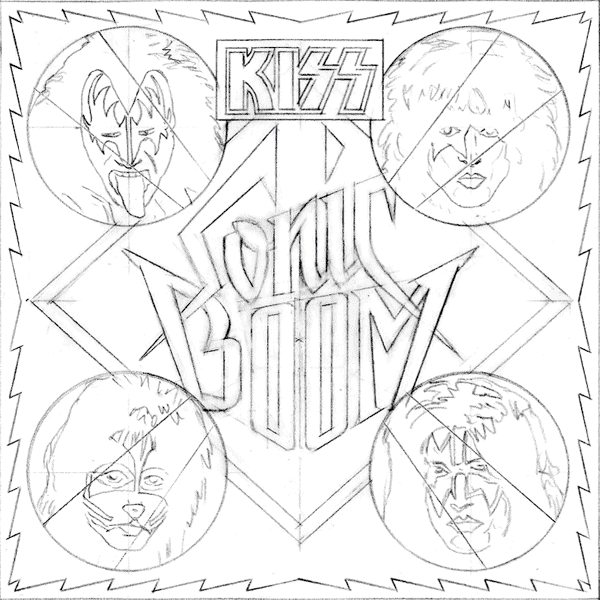 The hardest part of this process was figuring out what to do with the four faces. This time Paul wanted them to be photographic instead of just plain old graphic—as they were the first time around. And I couldn't get new photography—it had to be taken from existing files. The approach I decided on was to take the best photos I could find with the most contrast and shadows, and translate them into flat graphics that I could make work with the rest of the art. I've simplified the steps a bit, but here's an example of what I did with the faces, using a photo I found of Gene's face: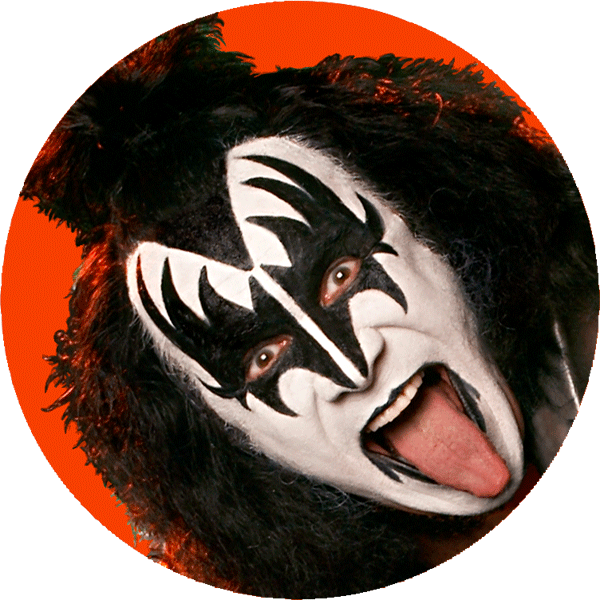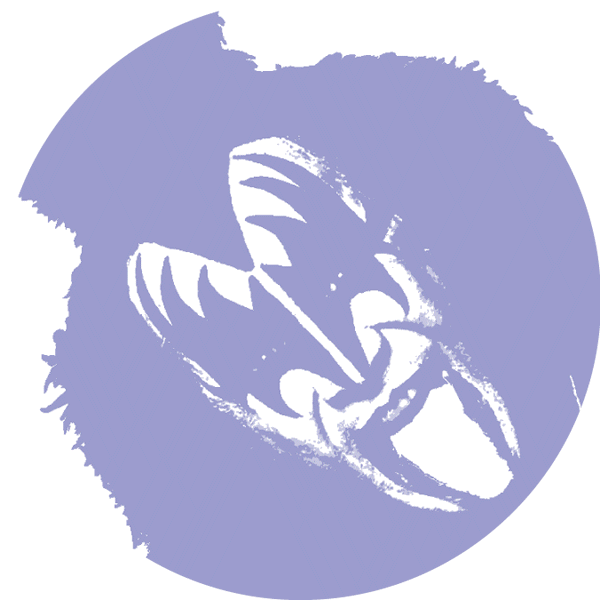 Everybody's got an opinion as to whether the art for Sonic Boom is better or worse than that for Rock and Roll Over. Being so close to both designs it's difficult for me to say. As far as Sonic Boom is concerned, I did the best I could within strict limitations provided by Paul. I think it solved the problem, and I'm quite happy with the results.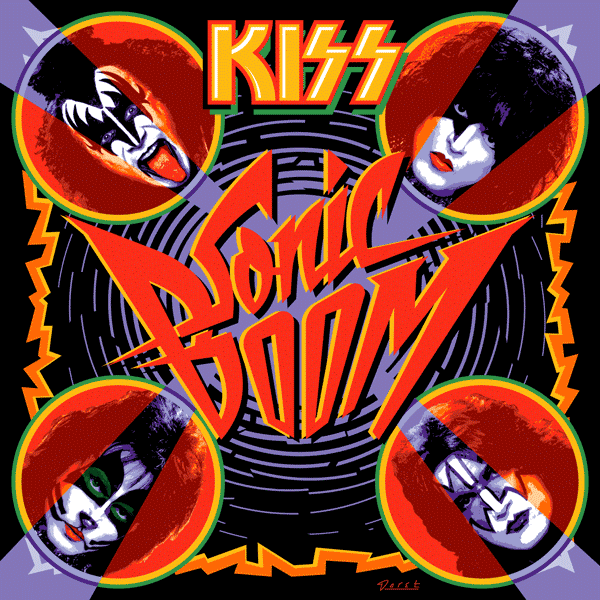 I'll leave it to time, to posterity, and to others to decide if Sonic Boom becomes as much a cultural touchstone as Rock and Roll Over did. If it does, we may soon start seeing . . .
Purchase an original "Rock and Roll Over" press proof HERE 

February 11, 2013 on 11:09 am | By
Michael
| In
Gigs
,
Notes
,
Wayback Machine
|
2 Comments
PowerStation is my one font that specifically evolved from a prior design assignment. I had been tasked with designing signage for Hershey's Times Square flagship store. The signage needed to be designed in the spirit of a retro future-machine, à la Jules Verne or other Victorian "Steam Punk" aesthetic. So I came up with the following sketches in which I combined various lettering and type styles: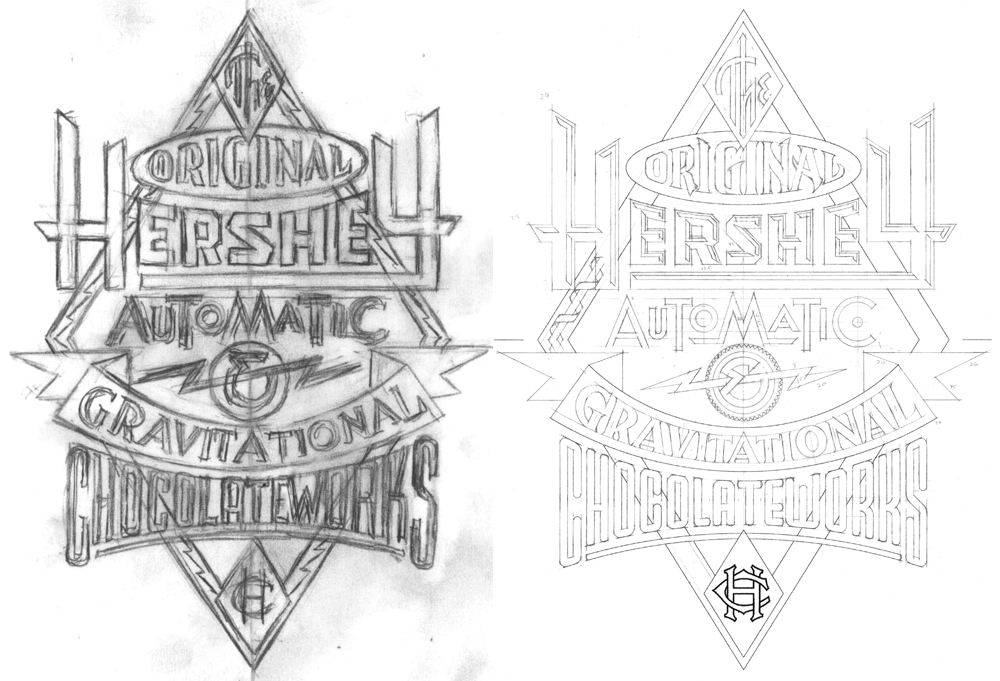 In the tighter version I designed the word "Hershey" to have a feeling of faceted letters, similar to what you might see on an old theater marquee: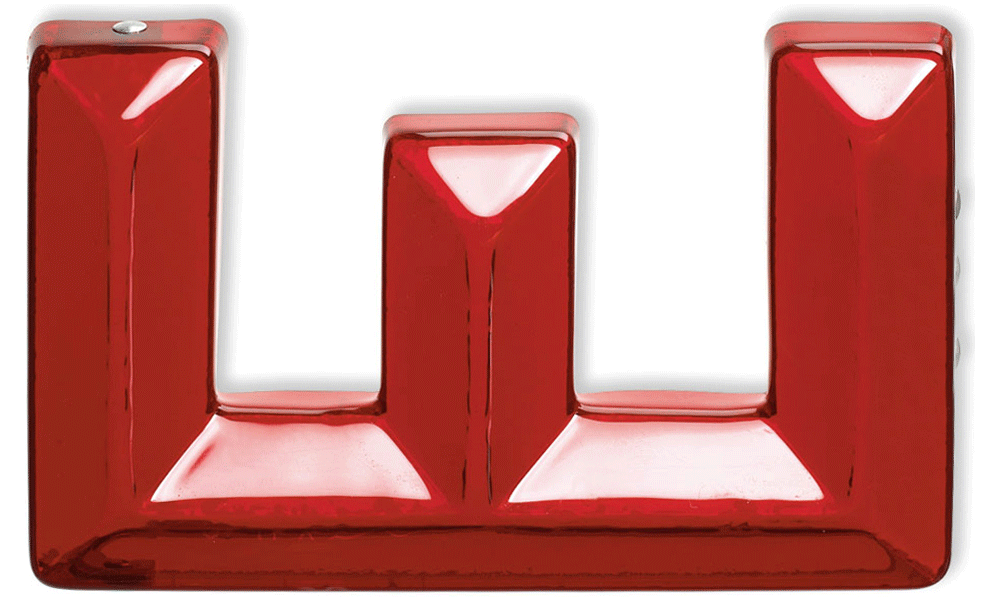 Ever since I first became aware of them I've been faxcinated by the tactile qualities of these extruded plastic letterforms, and how they reminded me of candy. I've always thought there was something "delicious" about them.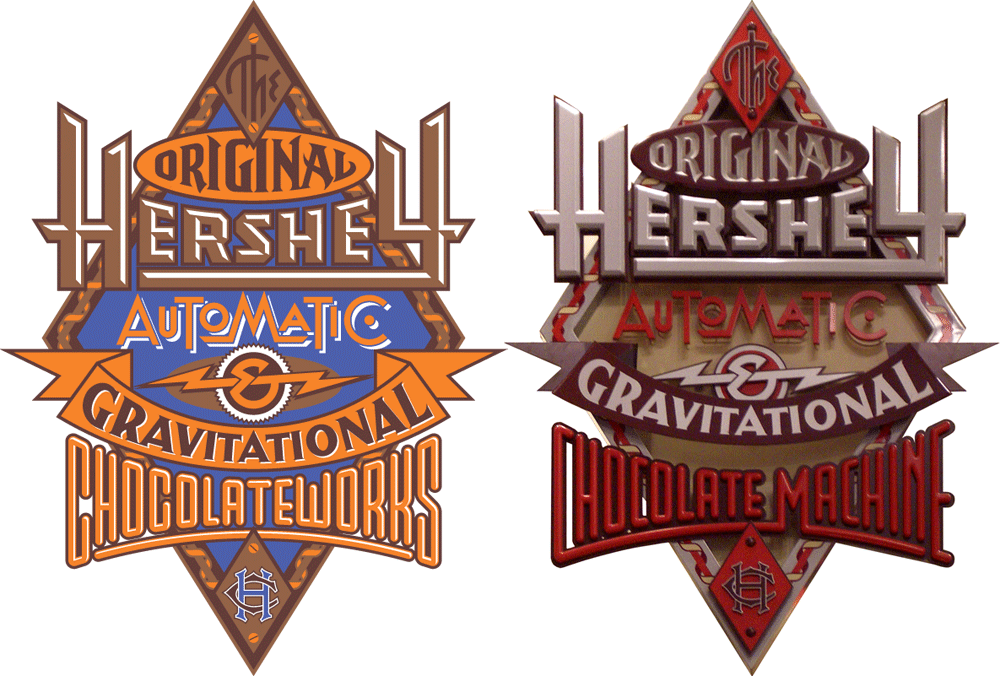 So it seemed entirely appropriate to me that the word Hershey should be rendered that way, giving it a chunky, almost chocolatebar-like flavor. Note that in the final signage we needed to change the lettering of the word "Chocolateworks" to read "Chocolate Machine".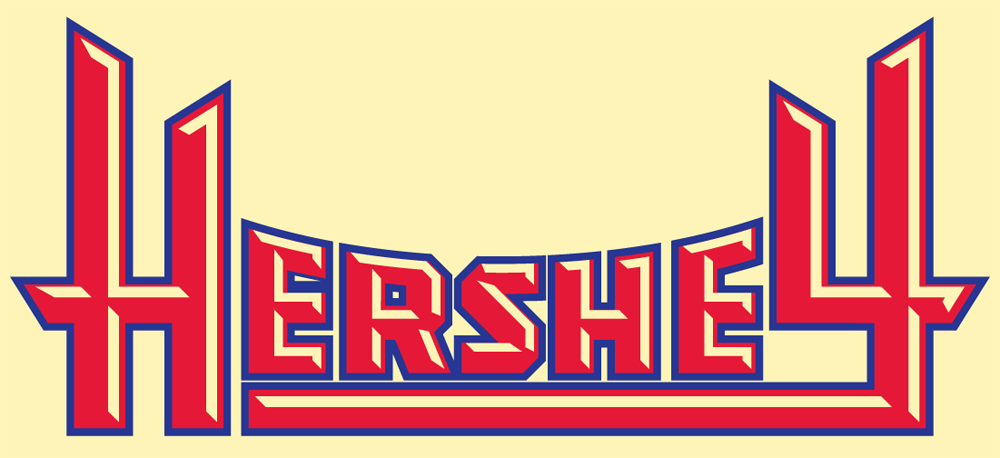 I loved how my art turned out, especially the word "Hershey". After this job was over it occured to me that I wasn't aware of any fonts that successfully captured that particular faceted look. So I thought I'd try and see if I could make that work as a typeface:

I started sketching out various letters to see if it could be viable. As the font developed and it's strong industrial and moderne qualities became more apparent, I decided to name it "PowerStation".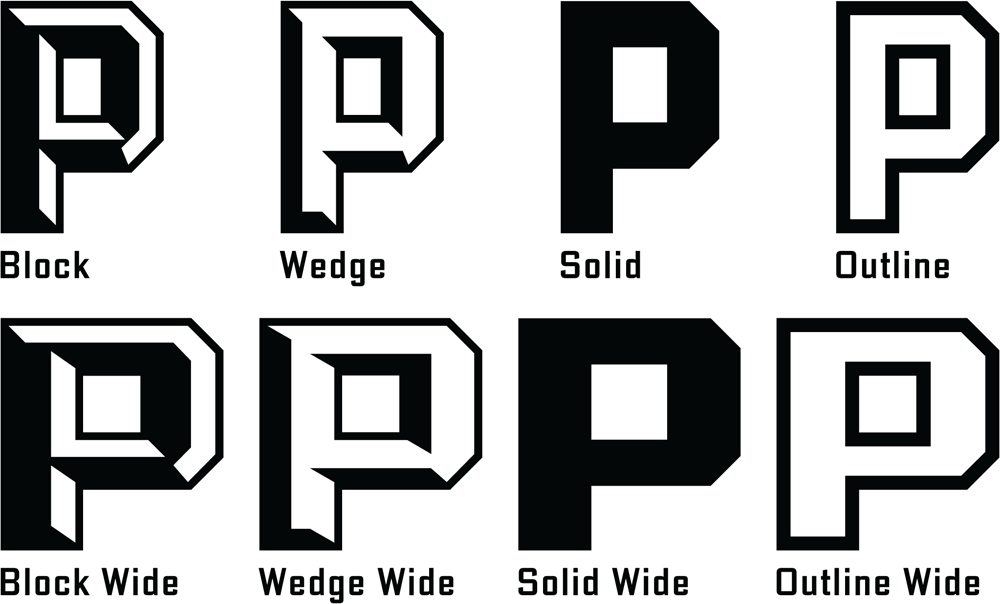 As I developed PowerStation, it evolved from the one version I had adapted from the Hershey's assignment into four different versions. These I decided to call Block, Wedge, Solid, and Outline. Then I thought I'd expand those into another four "Wide" versions. Now I had a family of eight different fonts.
But I guess I wasn't able to leave well enough alone. Why not provide the added ability to set PowerStation in two colors? So I took the basic four faceted versions of PowerStation (Block, Block Wide, Wedge, and Wedge Wide) and broke each of them down into two separate fonts which, if set on separate layers, could provide 2 color typesetting. The solid "base" of the letters would be formed by setting the "Low" version of the font, and the facted part of the letter would be formed by setting the "High" version of the font on a layer directly above the "Low" version.

In other words a two color version of PowerStation Wedge could be achieved by setting PowerStation Wedge High over the same copy which would be set in PowerStation Wedge Low, and applying different colors to each layer.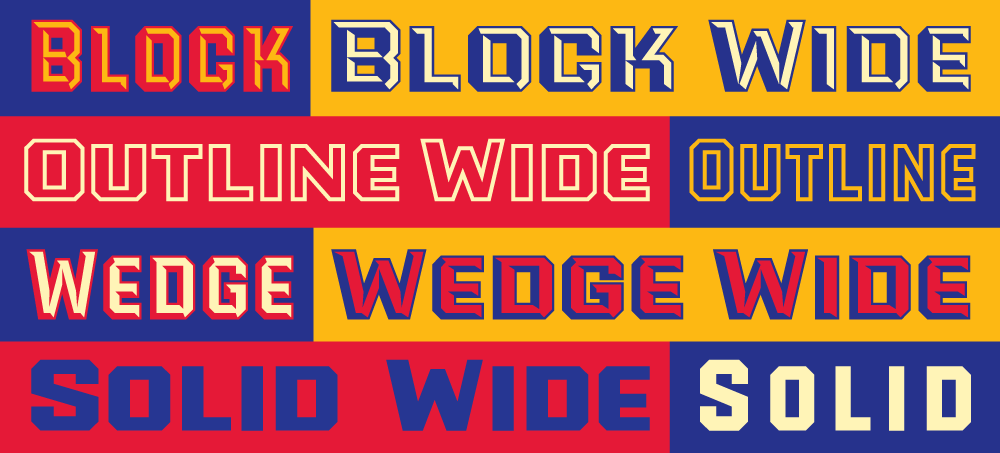 Setting words like this in two colors can provide richness and variation when used imaginatively.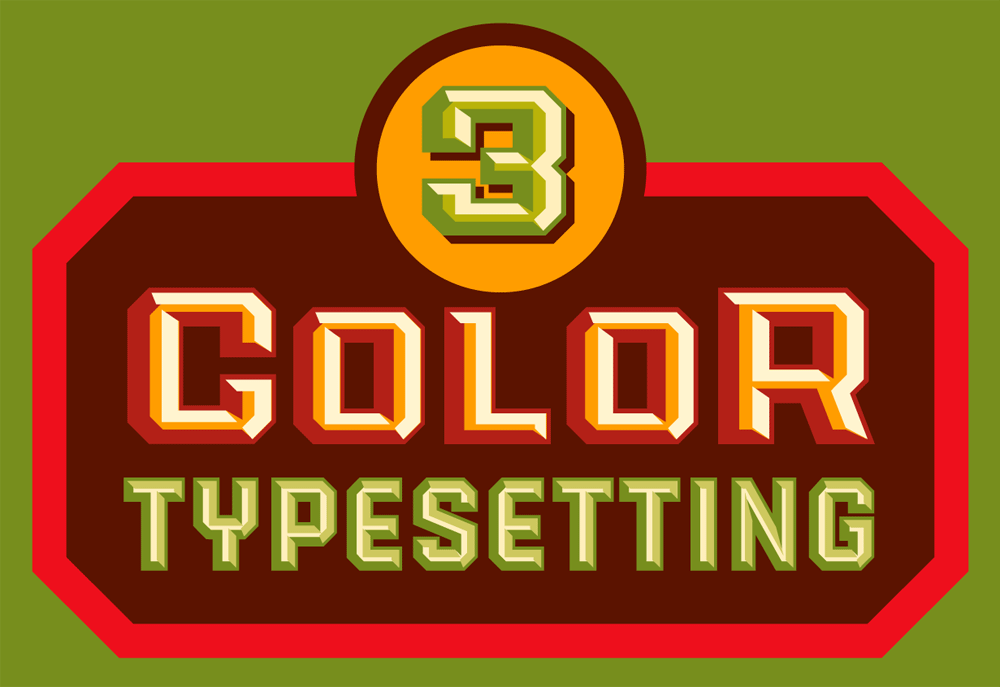 Some time after the release of PowerStation I discovered the next step in its evolution—that you didn't have to be limited to two color typesetting with this font. I found that by combining the various PowerStation fonts in different ways one could set this font in three colors as well. The instructions for doing that may be a little long for this article, so if you'd like to see what's involved with that, you can download the free PowerStation User Manual.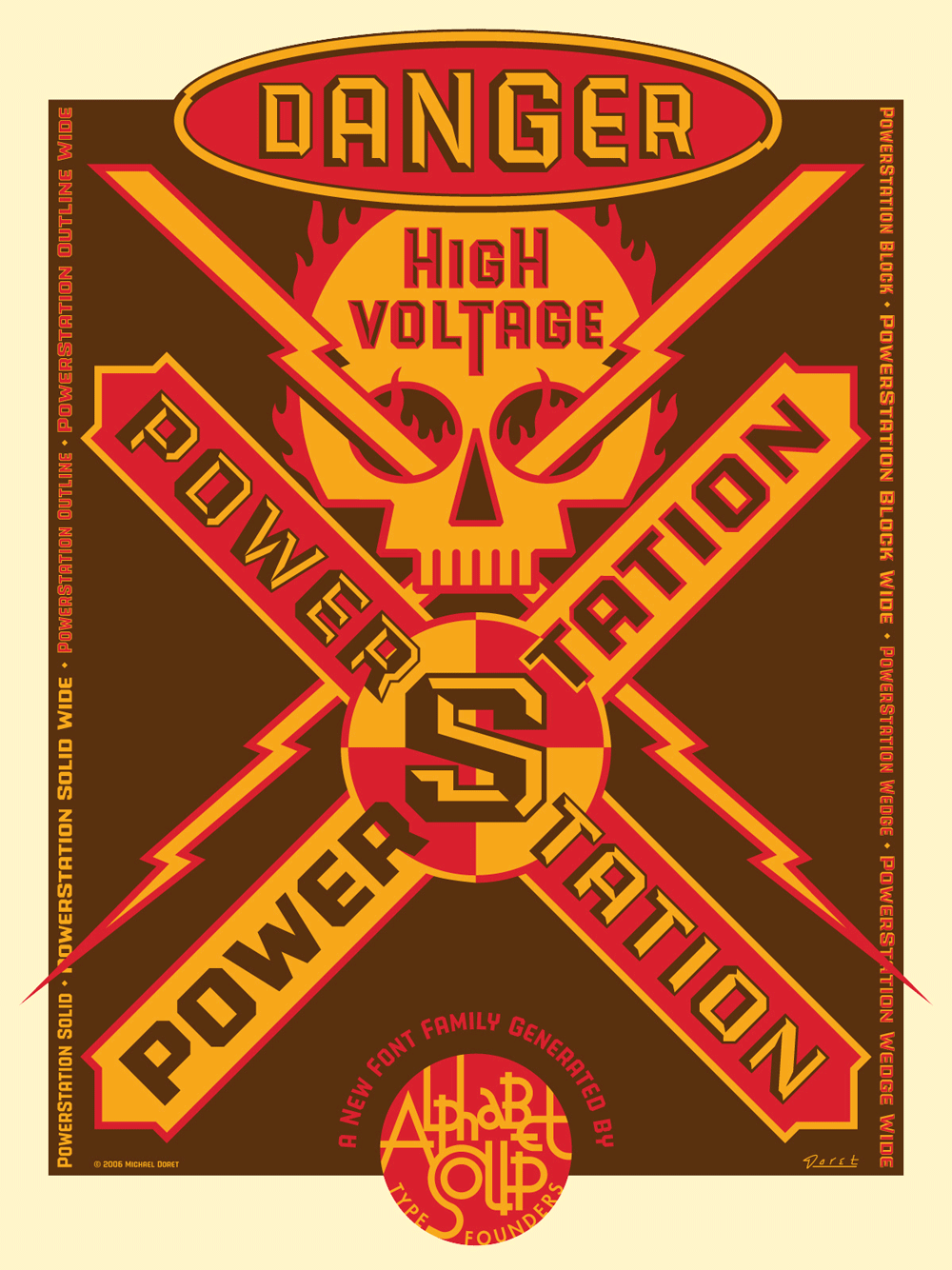 I originally created the serigraph above to celebrate the release of PowerStation. The signed and numbered edition is limited to 100 copies, and there are still some left. Click HERE to find out more about this offer.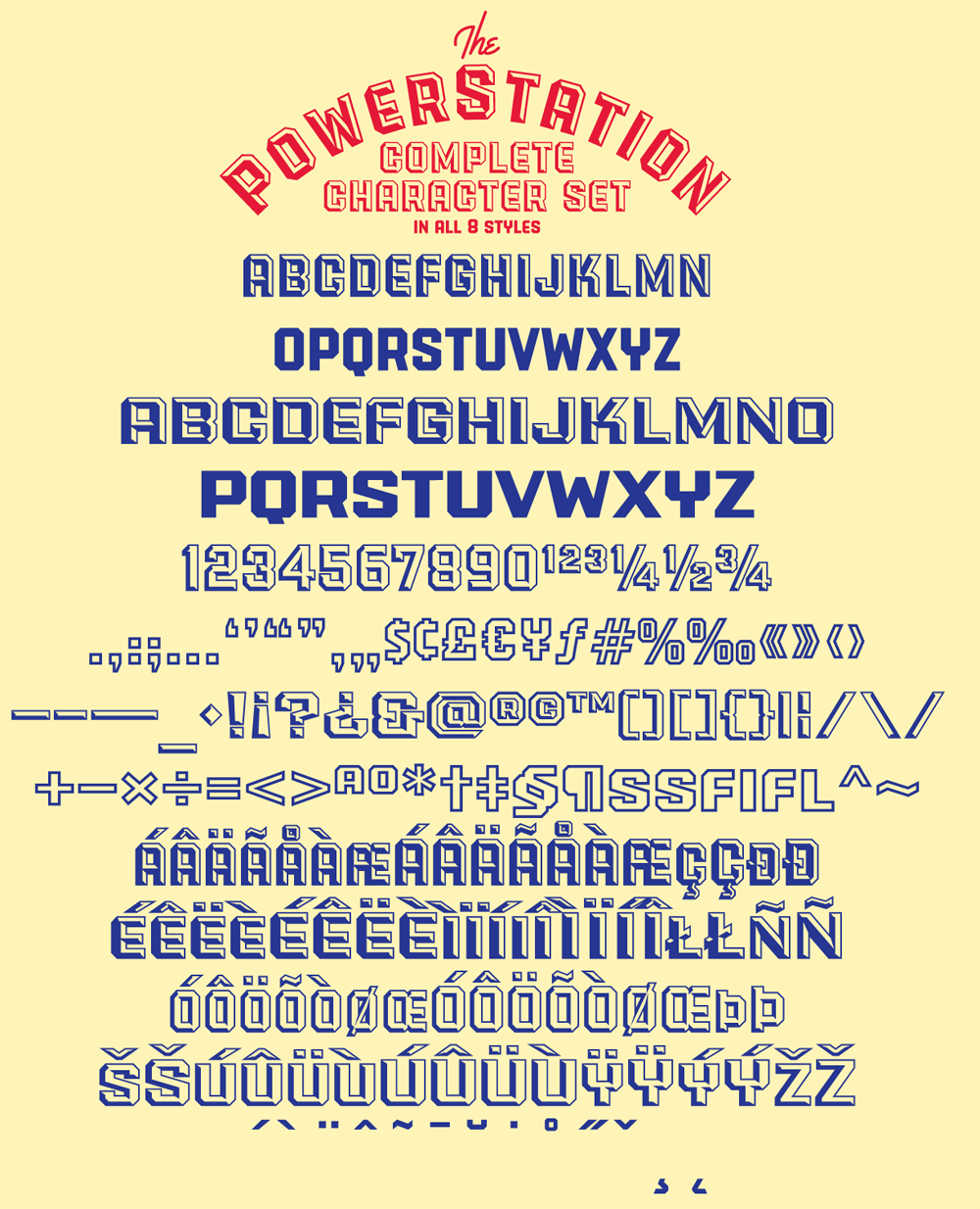 License the PowerStation fonts HERE .
Purchase the PowerStation Serigraph HERE.

Next Page »
My RSS Feed

About

You may be familiar with Michael Doret's work without even knowing it. If you've seen his logo for the NY Knicks or one of his many Time covers then you're familiar with the power and dynamism he has brought to the art of hand-lettering and font design.

Michael is an eight-time winner of the New York Art Directors Club Silver Award. in his unique typographic vision he blends elements of lettering, illustration and graphic design. The inspiration for his work has come from such diverse sources as matchbook covers, theater marquees, enamel signs, early and mid-20th century packaging, and various other artifacts of this great land of ours.

My Other Sites

Categories

Archives
Powered by WordPress and Nifty Cube with Recetas theme design by Pablo Carnaghi.
Entries and comments feeds. Valid XHTML and CSS.