| | | |
| --- | --- | --- |
| | | |
November 17, 2008 on 2:31 pm | By
Michael
| In
News
,
Notes
,
Wayback Machine
|
3 Comments
At the very beginning of my career I hooked up with airbrush wiz Charles White III. He rented me deskspace in his studio on Lexington & 26th Street in Manhattan, and helped give my career the push it needed. We did quite a bit of work together in those days—work that I'd like to think was groundbreaking illustration work. Rather than have typography slapped over an illustration, we tried to figure out new and inventive ways of integrating letter and image. This is evident in pieces like the Chubby Checker album cover where the title was part of the illustration—contained in the Checker Cab-like decal I created—or the Gentle Giant cover where I painstakingly figured out what dimensional lettering would look like as it wrapped around a glass jar. One of our first collaborations was the incredibly complex Screaming Yellow Zonkers poster which took a more traditional approach to the integration of letterforms and illustration.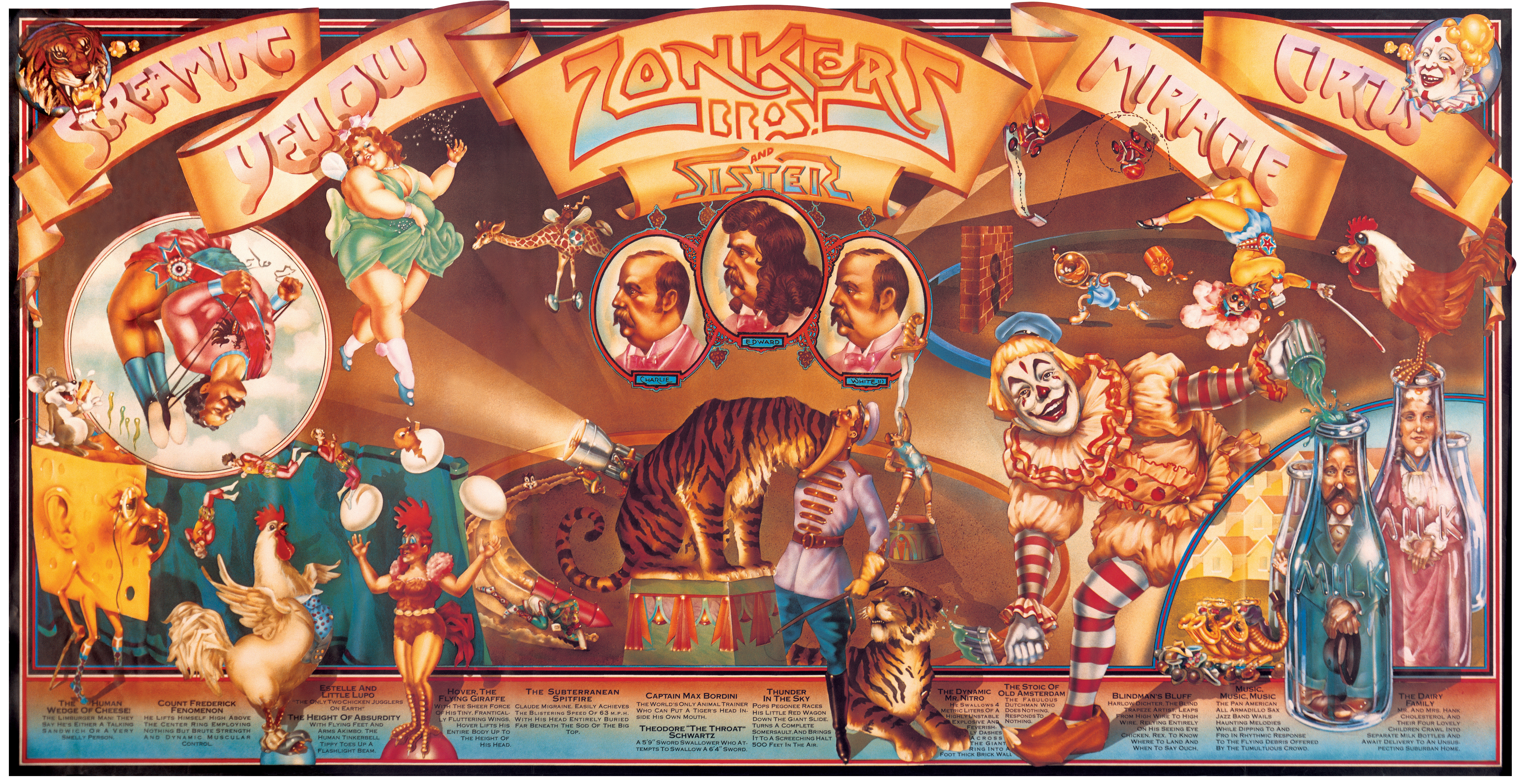 Charlie is finally getting the recognition he deserves for that early work in the just released book Overspray by Norman Hathaway. The book features Charlie who, along with fellow artists Dave Willardson, Peter Lloyd and Peter Palombi, formed a quartet of California artists that transformed the illustration landscape in the '70s. Charlie, Dave and Norman together with legendary designer and art director Mike Salisbury (who contributed an essay to the book) were all in attendance at a book signing at FAMILY in Los Angeles on 11/12/08. To see photos from the FAMILY booksigning (which includes the back of my head) and some discussion from Norman Hathaway about the process and problems he encountered putting together this book, check out his Overspray Blog. To see more of Charlie's work from this period, I've put together a PDF of images (not currently available) culled from his website. Throughout his career Charles White III has been consistently one of the most interesting talents around. Visit his Olio website to see what he's been up to.
RSS feed for comments on this post. TrackBack URI
[…] Sunday June 7th on your calendars: my mentor, the great Charles White III, is opening the doors of Olio to the public, and putting some classic […]

Pingback by Alphabet Soup » Blog Archive » Charles White III Studio Sale — May 18, 2009 #

Yes. There's a long list of the many I owe a lot to, starting with my parents and my high school art teacher Sol Schwartz, but Charlie is definitely at the top of the list!

Comment by Michael Doret — November 17, 2008 #
My RSS Feed

About

You may be familiar with Michael Doret's work without even knowing it. If you've seen his logo for the NY Knicks or one of his many Time covers then you're familiar with the power and dynamism he has brought to the art of hand-lettering and font design.

Michael is an eight-time winner of the New York Art Directors Club Silver Award. in his unique typographic vision he blends elements of lettering, illustration and graphic design. The inspiration for his work has come from such diverse sources as matchbook covers, theater marquees, enamel signs, early and mid-20th century packaging, and various other artifacts of this great land of ours.

My Other Sites

Categories

Archives
Powered by WordPress and Nifty Cube with Recetas theme design by Pablo Carnaghi.
Entries and comments feeds. Valid XHTML and CSS.