| | | |
| --- | --- | --- |
| | | |
September 10, 2012 on 11:31 am | By
Michael
| In
Gigs
,
News
|
2 Comments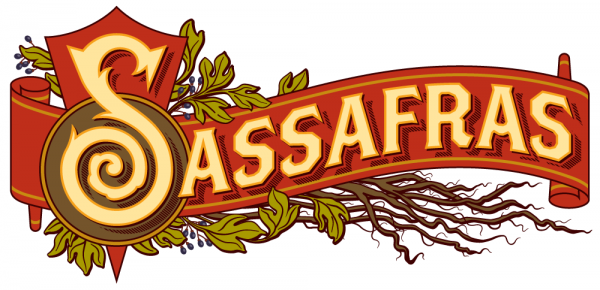 A few weeks ago I posted an article about my logo project for Sassafras, a saloon set to open in Hollywood—another brainchild of Bobby Green of 1933 Group. The timing for these kinds of openings is always a bit cattywampus, and we didn't know exactly when the Grand Opening was gonna be. I can now tell y'all with certainty that it will be on Friday, September 14th.
I've been to this honkey-tonk, and I can honestly say that it's everything you'd expect from a Southern plantation which has been moved brick by brick and transplanted to Vine Street in Hollywood.
You can start slowly, out on the "front porch", a great place to relax with a Toasted Pecan Julep…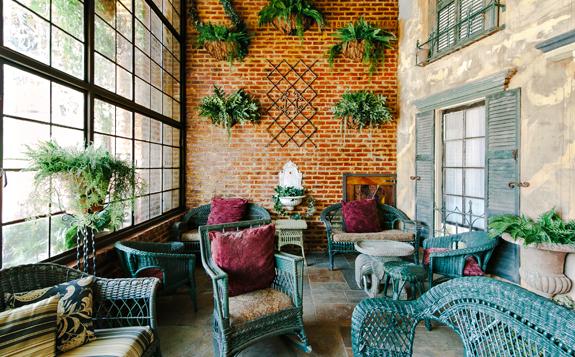 Photo by Alen Lin
…then I reckon you'll want to sidle on over to the "living room" with your Southern Belle (or Beau Hunk) to enjoy some of Sassafras' signature "Barrel Aged" cocktails —perhaps a "Between the Sheets"…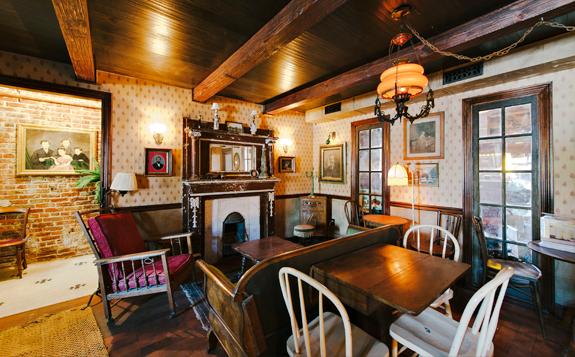 Photo by Alen Lin
…and then finally end up at the bar and take in the strains of a live band performing from the balcony…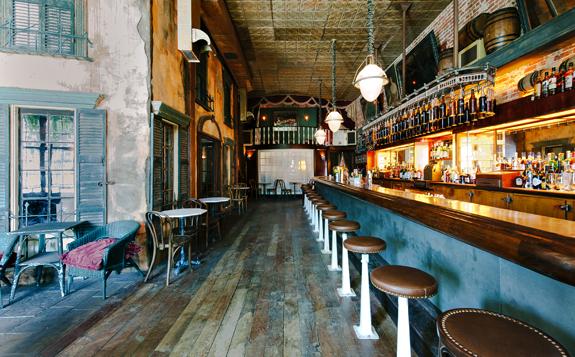 Photo by Alen Lin
Voila…the mirror on the balcony (logo designed by yours truly, and painted in gold-leaf by sign artist/fine artist Daniel Winter [Instagram – winter_stone]), through the reflection of which can be seen the saloon's decaying opulence. From here you will be serenaded "New Orleans" style. Well, hush my mouth and slap your pappy!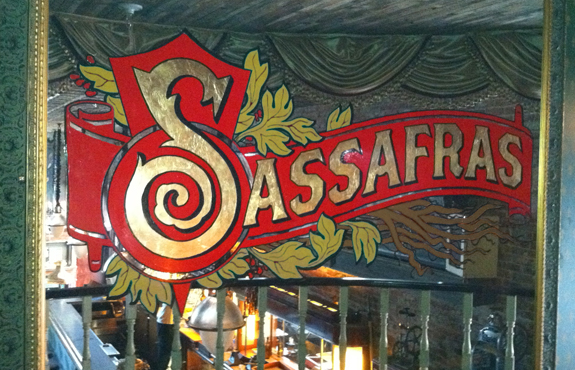 Now take a gander at what you can look forward to. (Menu Art Direction courtesy of Mr. James "Buster" Heimann, and the design talents of Ms. Cindy Vance of Think Modern Design.) Make mine an Apple Moonshine Crusta!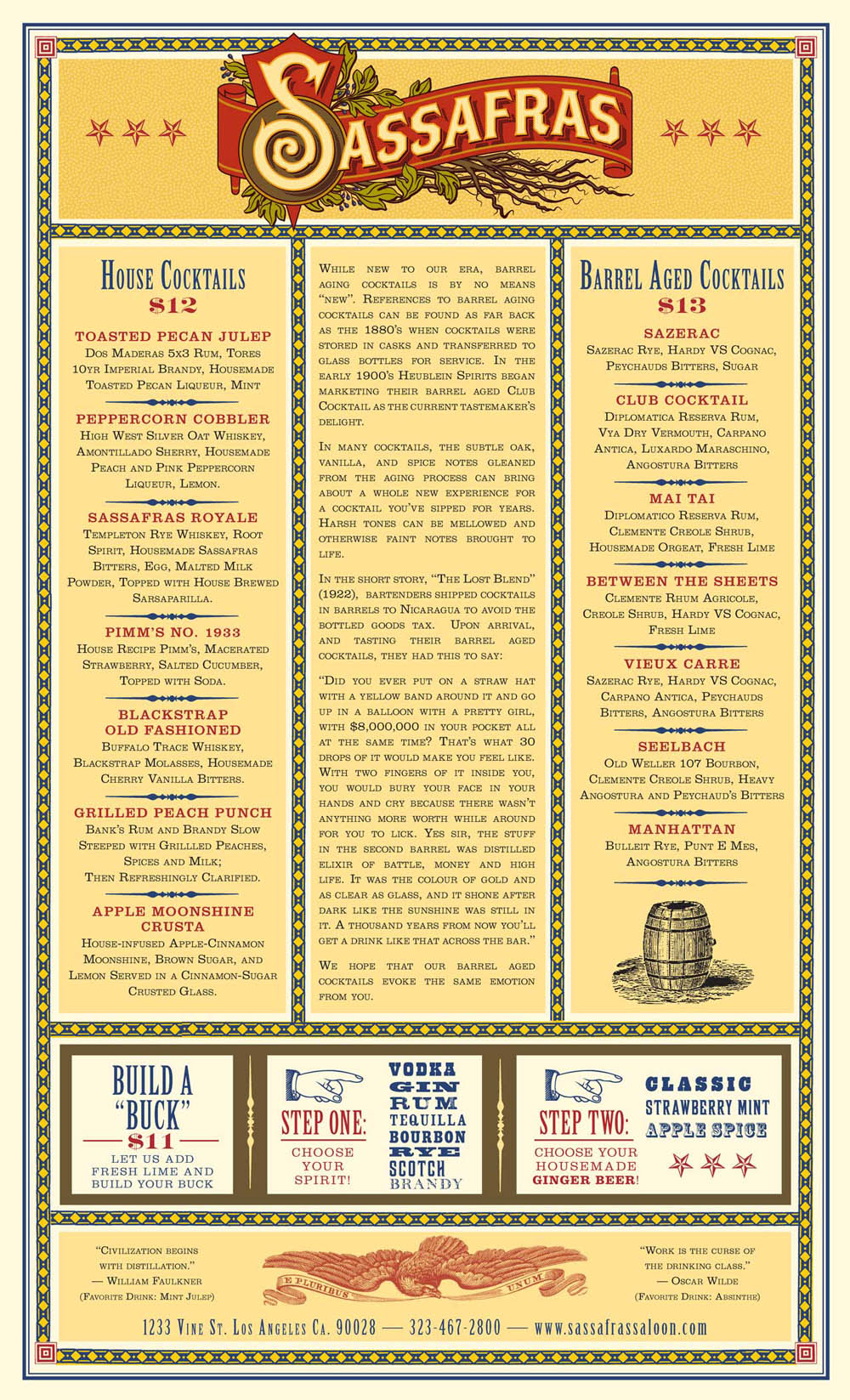 And Bobby Green's awesome little business card, also courtesy of Ms. Vance.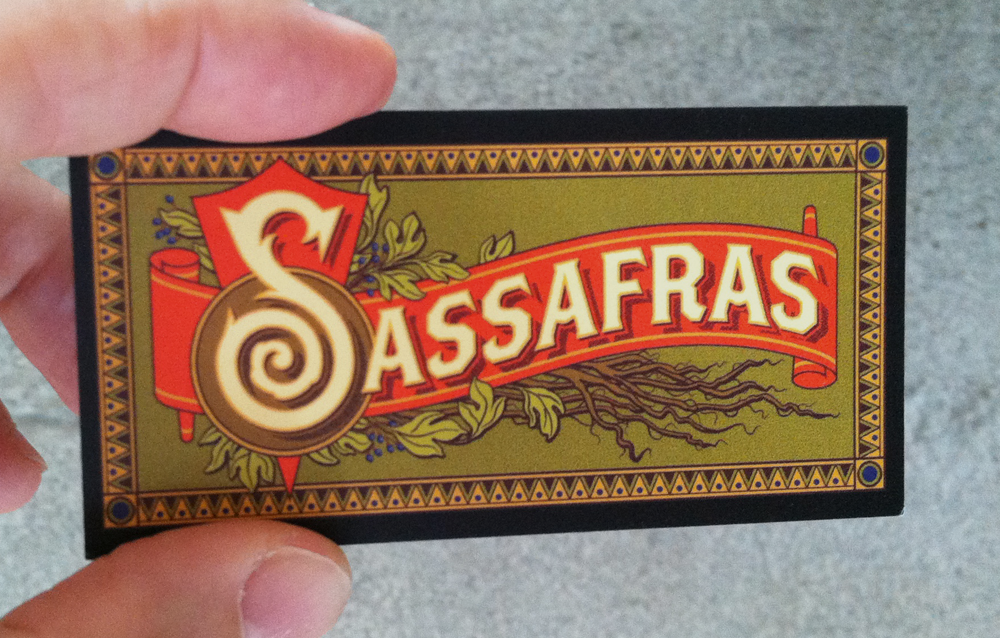 Looks good? Hope to see you there, y'all!

RSS feed for comments on this post. TrackBack URI
I love the Sassafras logo!
I work at Elmaro Vineyard in Trempealeau, WI. They make a Concord Catawba wine there and it's described as having notes of Sassafras. I thought that i would make a soap with the sassafras so that people could see what the scent it like. I was looking for ideas for my label and came across this. I was wondering if using that on a label would be right or welcomed and so I thought I would just ask. Thank you for your time.
Sandra

Comment by Sandra Muellenberg — December 31, 2012 #

Awesome design. Truly amazing!

Comment by Geoff Vane — September 20, 2012 #
My RSS Feed

About

You may be familiar with Michael Doret's work without even knowing it. If you've seen his logo for the NY Knicks or one of his many Time covers then you're familiar with the power and dynamism he has brought to the art of hand-lettering and font design.

Michael is an eight-time winner of the New York Art Directors Club Silver Award. in his unique typographic vision he blends elements of lettering, illustration and graphic design. The inspiration for his work has come from such diverse sources as matchbook covers, theater marquees, enamel signs, early and mid-20th century packaging, and various other artifacts of this great land of ours.

My Other Sites

Categories

Archives
Powered by WordPress and Nifty Cube with Recetas theme design by Pablo Carnaghi.
Entries and comments feeds. Valid XHTML and CSS.