| | | |
| --- | --- | --- |
| | | |
May 27, 2008 on 4:40 pm | By
Michael
| In
Notes
,
Wayback Machine
|
3 Comments
People are always asking me how I ended up doing what I do. They also want to know if what I do has a "name". My intention was never to set out to be a "lettering artist", but somehow I always gravitated towards solving communication problems with letterforms. I guess in some ways I'm a designer who works like an illustrator. I have done work of all kinds in all sizes—from billboards to postage stamps, from logo design to labels, from CD covers to signage—and then of course there's font design.
I don't feel it's ever a good idea to try to fit one's work into categories or niches: what I do overlaps several categories: illustration, graphic design, lettering, typography and font design. What I usually tell people is that I'm a "letterforms" artist—a definition vague enough not to be too confining, but at the same time giving a little more emphasis to the "lettering" part. How I ended up "inventing" this genre (I hope that doesn't sound too immodest) is a whole other matter. I don't want to give myself more credit than I actually deserve by focusing on this, but people are always asking how I got here . . . so, if you're interested, stay tuned for my next post for more of the backstory.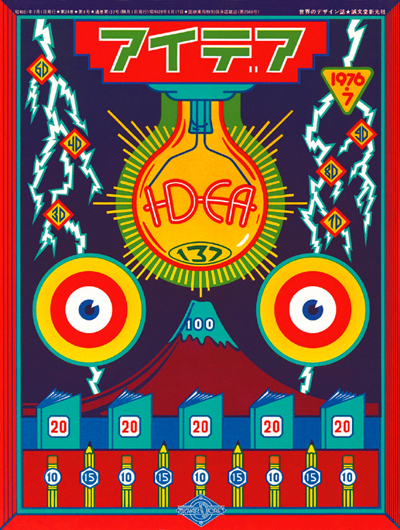 RSS feed for comments on this post. TrackBack URI
[…] I did it, I styled it after another piece I had done—a cover for the Japanese graphics magazine IDEA. Over the years this piece has gotten more notoriety (founded or unfounded) than almost any other […]

Pingback by Alphabet Soup » Blog Archive » For All You 'KISS' Fans Out There… — June 18, 2008 #

What you do is GREAT and I have always love that cover for IDEA.

J-X
My RSS Feed

About

You may be familiar with Michael Doret's work without even knowing it. If you've seen his logo for the NY Knicks or one of his many Time covers then you're familiar with the power and dynamism he has brought to the art of hand-lettering and font design.

Michael is an eight-time winner of the New York Art Directors Club Silver Award. in his unique typographic vision he blends elements of lettering, illustration and graphic design. The inspiration for his work has come from such diverse sources as matchbook covers, theater marquees, enamel signs, early and mid-20th century packaging, and various other artifacts of this great land of ours.

My Other Sites

Categories

Archives
Powered by WordPress and Nifty Cube with Recetas theme design by Pablo Carnaghi.
Entries and comments feeds. Valid XHTML and CSS.