| | | |
| --- | --- | --- |
| | | |
June 3, 2013 on 3:05 pm | By
Michael
| In
News
,
Notes
|
1 Comment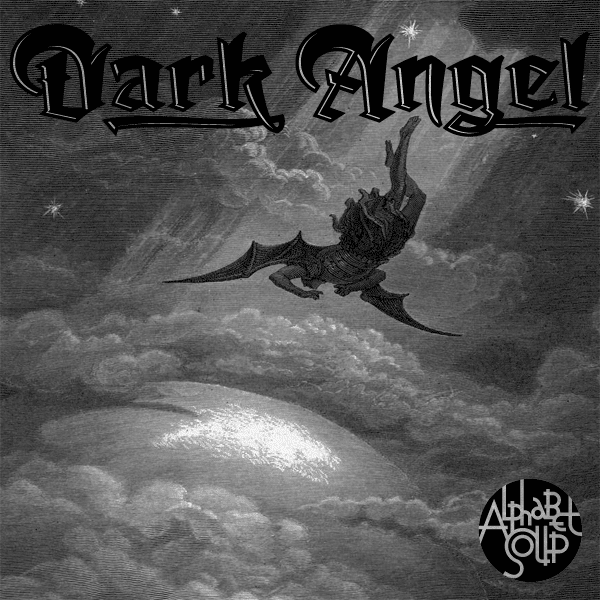 Alphabet Soup Type Founders and Michael Doret are proud to announce the Release of Dark Angel, a "blackletter/hybrid" font.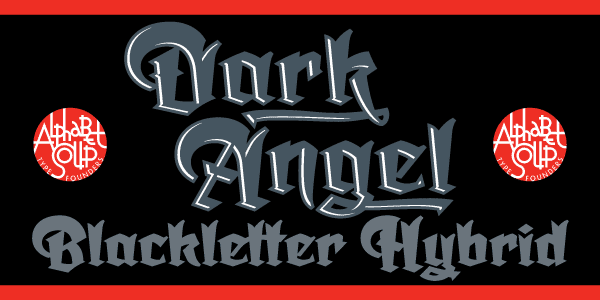 Dark Angel is the first completely new take in decades on the traditional "blackletter" font style. This font had its genesis years ago when the style was born in a sktech Michael created of a new logo for the California Angels baseball team (renamed shortly thereafter the Anaheim Angels). That Angels logo was never completed, but its rough sketch rose from the dead and become the basis for this brand new font design—and was also the source for the name. Below you can compare the forms from that original logo pencil and the corresponding letters from the new font. Many accomodations had to be made to keep these forms working together as a font but, as much as possible, the spirit of that original character design has been kept.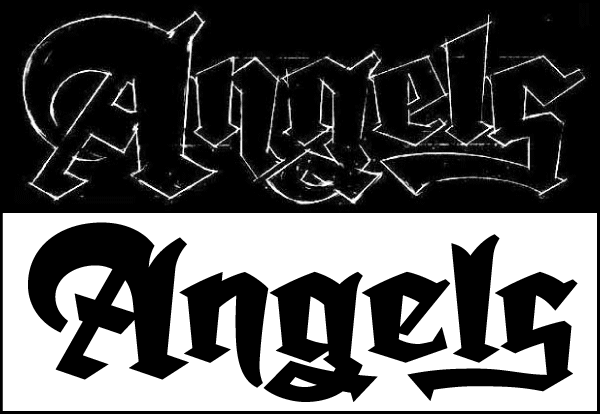 It's kind of blackletter in feel, but as a display font it's so much more. It is far more legible than most "Old English" or "Gothic Script" styles, and incorporates many features never before seen in them, such as swashes, tails and a plethora of ligatures.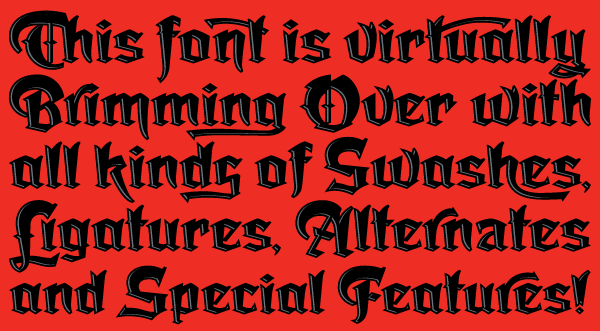 Type purists may be critical of the lack of adherence to traditional forms, but this font should be seen only as "in the spirit of" blackletter, and attempting to create something that hasn't been seen or done before—something that feels traditional, yet at the same time fresh and unexpected.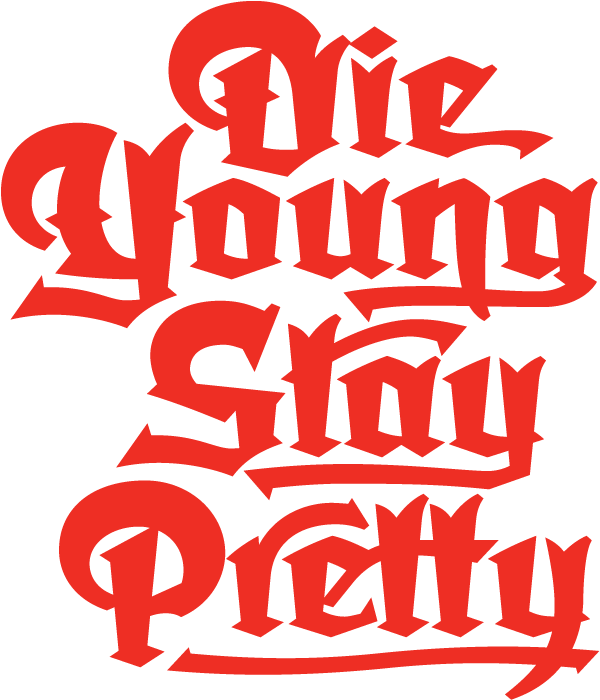 Dark Angel can be purchased in its regular solid form, or as Dark Angel Underlight—a "handtooled" font. When these two fonts are purchased together as a Family package, included will be a third font—Dark Angel Highlight. With this font layered over the basic font, two–color typesetting will be created when the highlight and the base font are assigned two different colors.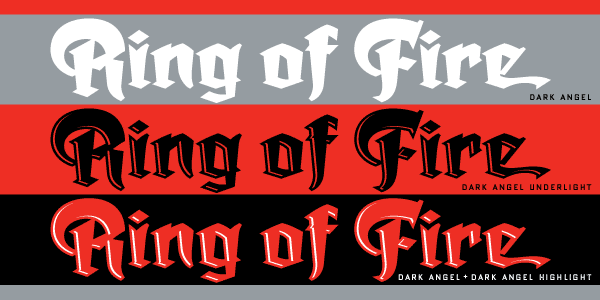 With Stylistic Alternates you can go either "Plain" or "Fancy", changing the look of your copy to suit your needs. Compare the two samples below. Some characters have multiple alternates.



And furthermore…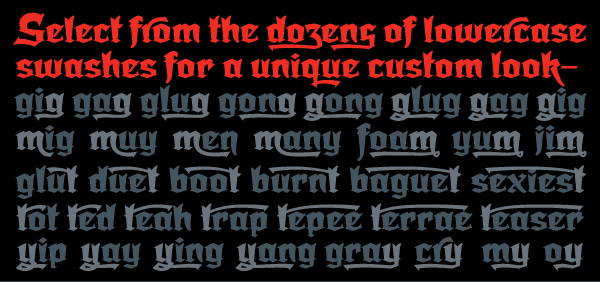 Utilizing Dark Angel's various features, words can be put together to build creative configurations, wordmarks and "Logos". The free-standing underlines you see in some of the examples shown here were set independantly and then manually moved into position.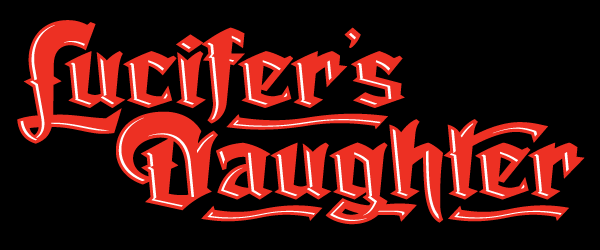 Dark Angel has enough language support to make the builders of Babel envious—its 1,163 glyphs can be used to set copy in 59 different languages. From A to Z: Afrikaans, Albanian, Basque, Bemba, Bosnian, Catalan, Cornish, Croatian, Czech, Danish, Dutch, English, Esperanto, Estonian, Faroese, Filipino, Finnish, French, Galician, Ganda, German, Hungarian, Icelandic, Indonesian, Irish, Italian, Kalaallisut, Kamba, Kikuyu, Kinyarwanda, Lithuanian, Luo, Malagasy, Malay, Maltese, Manx, Morisyen, North Ndebele, Norwegian Bokmål, Norwegian Nynorsk, Nyankole, Oromo, Polish, Portuguese, Romansh, Sango, Shona, Slovak, Slovenian, Somali, Spanish, Swahili, Swedish, Swiss German, Turkish, Welsh, and last (but not least) Zulu.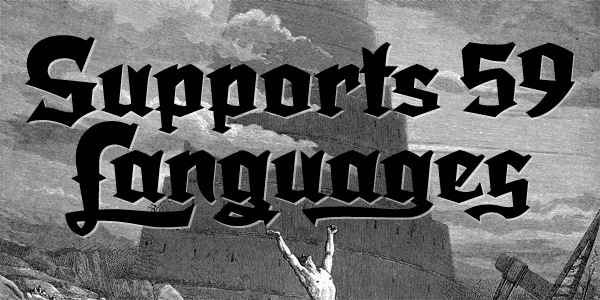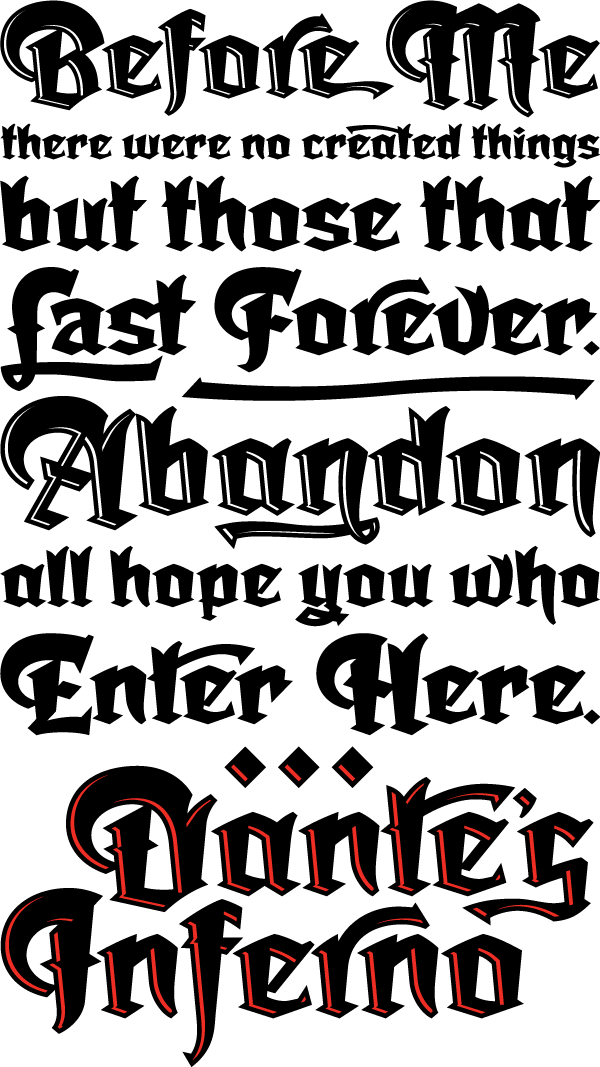 –For more detailed information download The Dark Angel Manual PDF (1.1 MB).
–Dark Angel on Alphabet Soup
–Dark Angel Design and Art: Michael Doret/Alphabet Soup Type Founders
–Dark Angel OpenType Programming:Patrick Griffin/CanadaType
RSS feed for comments on this post. TrackBack URI
My RSS Feed

About

You may be familiar with Michael Doret's work without even knowing it. If you've seen his logo for the NY Knicks or one of his many Time covers then you're familiar with the power and dynamism he has brought to the art of hand-lettering and font design.

Michael is an eight-time winner of the New York Art Directors Club Silver Award. in his unique typographic vision he blends elements of lettering, illustration and graphic design. The inspiration for his work has come from such diverse sources as matchbook covers, theater marquees, enamel signs, early and mid-20th century packaging, and various other artifacts of this great land of ours.

My Other Sites

Categories

Archives
Powered by WordPress and Nifty Cube with Recetas theme design by Pablo Carnaghi.
Entries and comments feeds. Valid XHTML and CSS.