| | | |
| --- | --- | --- |
| | | |
April 2, 2010 on 8:57 pm | By
Michael
| In
News
,
Notes
|
2 Comments
Belgian designer and writer Yves Peters has been posting his comments and critiques about the winners of the TDC² 2010 Typeface Design Competition, and has finally reached the Display Type category—the one in which Deliscript was selected. While Yves' comments are considered and thoughtful—and with regard to Deliscript were for the most part on target—I feel as if I would like to comment on a couple of his remarks.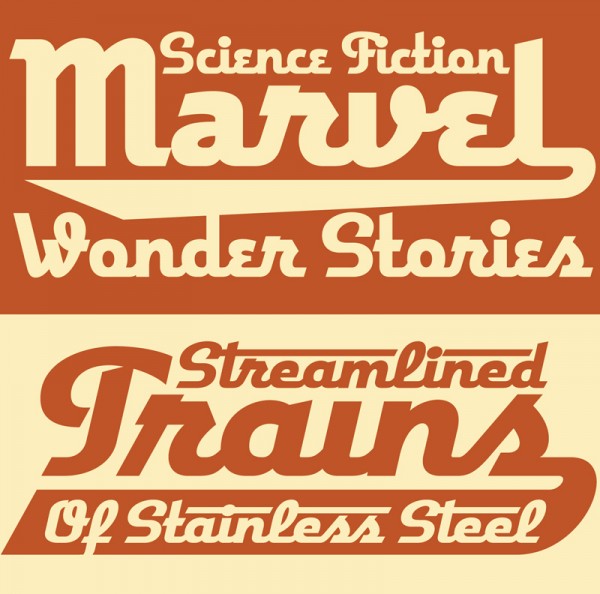 Yves mentioned the "Word Logos" I have thrown in, and mentions that they're only in English and that there aren't that many. I agree with this. I probably shouldn't have put them in at all. I had literally been working for months on Deliscript, and really wanted to get it out for release, so I guess I rushed through their creation, thinking of them as just a small extra feature to include. They probably don't add that much to the font, and I should have thought of the European market as well. The next time I do a feature like that I'll definitely try to do it in a much more expansive manner.
Yves also mentions that he is "unsure about the finer details in the character shapes", citing that "some curves and joins seem rather stiff, and the weight distribution and contrast in the character strokes appear a little off in some parts". I'm not sure, but I think this perception on his part may stem from cultural differences that we share, and from a possible misunderstanding of what I'm referencing. What I'm going for is not really in the lexicon of classical font design—rather it is from the American pop culture vernacular—from all the (traditionally) untrained eyes that created all the wonderful signage and ephemera that I grew up with.
Coming to font design from that background, I can totally understand how what I'm trying to do can seem foreign to those who are trained to look at fonts from a traditional perspective. While I'm sure we all share some of the same font heroes (such as Morris Fuller Benton) I also celebrate those whose work joyously displayed a flagrant lack of regard for what some would consider to be "the formal rules of design". It is to these designers whose names we'll probably never know—and to their typographic "mistakes" and flourishes that I find so engaging—that I try to pay homage to in my lettering and font design work.
RSS feed for comments on this post. TrackBack URI
Hi Norman,

Michael certainly did, and I am glad he notified me of your comment. I can assure you we are very much on speaking terms, and have discussed the TDC2 competition quite a bit in a couple of e-mails.

Your comment is quite interesting, and I still have to make up my mind inhowfar I could agree with your position. This needs some thinking over (I don't believe in the quick-draw style of commenting customary in online discussions :).

Do you think I can nudge you into repeating your comment in the TDC2 post on The FontFeed? This could spark a lively debate. I'm always up for that.

Comment by Yves Peters — April 7, 2010 #

Michael,

I could not agree with you more, and am constantly pointing out to type designers that there IS a difference between type design and LETTERING.

You are a letterer and have made a typeface designed for display use only, therefore being 'a little off' is a virtue of your design, and should not be viewed as a mistake.

I don't think this is a cultural difference, but a mistake on his part due to his typographic myopia.

Its very interesting to see a typeface based on a hand lettered design, done by a type designer. they add too much contrast and try to file off 'wrong' irregularities as this is how they're trained – but in doing so they 'miss it'.

Jim Parkinson (who I love) has made this mistake with some of his sign-based faces.

I hope you repeat the comments you made here to Yves.

Comment by norman hathaway — April 7, 2010 #
My RSS Feed

About

You may be familiar with Michael Doret's work without even knowing it. If you've seen his logo for the NY Knicks or one of his many Time covers then you're familiar with the power and dynamism he has brought to the art of hand-lettering and font design.

Michael is an eight-time winner of the New York Art Directors Club Silver Award. in his unique typographic vision he blends elements of lettering, illustration and graphic design. The inspiration for his work has come from such diverse sources as matchbook covers, theater marquees, enamel signs, early and mid-20th century packaging, and various other artifacts of this great land of ours.

My Other Sites

Categories

Archives
Powered by WordPress and Nifty Cube with Recetas theme design by Pablo Carnaghi.
Entries and comments feeds. Valid XHTML and CSS.